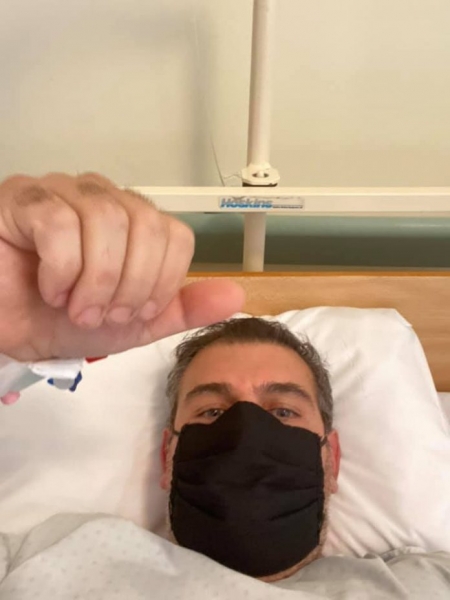 Mr. Michalis Persianis will remember yesterday for the rest of his life, since his fate reserved two decisive events. On the one hand, a heart attack sent him to the hospital and he was temporarily confined to bed, and at the same time the Council of Ministers appointed him Chairman of the Budget Council.
He announced his heart attack and his treatment in the hospital by posting a relevant photo on social media, under the characteristic title "An episodic day". In the meantime, his appointment as Chairman of the Financial Council had become known. So friends and acquaintances wished him well for the adventure of his health and those who caught up and were informed about his appointment, also gave him congratulations. Others, ignoring his appointment, after asking to be informed about his state of health, asked which appointment was in question.
The appointment of Mr. Persianis came after the decision of the current chairman of the Financial Council, Dimitris Georgiadis, to resign from his position. The decision of Mr. Georgiadis was accepted by the Minister of Finance Mr. Konstantinos Petridis. He proceeded by submitting a proposal to the Council of Ministers, proposing Mr. Persianis for a new president, something that was accepted.
 Mr. Dimitris Georgiadis was appointed as the first Chairman of the Fiscal Council in June 2014 for six years and his term was renewed in 2020. Mr. Georgiadis' term ended on Monday, October 11th.
Transfer from Bank of Cyprus
Michalis Persianis has been the Director of Corporate Affairs of the Bank of Cyprus since 2015.
He worked as a correspondent for the Wall Street Journal / Dow Jones from 2011 to 2014, as Editor-in-Chief for Economics and Finance at Kathimerini (Cyprus Edition) between 2009 and 2014, Head of Research for the Presidential Campaign and Head of the Parliamentary Office of Ioannis Kasoulidis in Brussels in the years 2005 – 2009.
He was also a co-founder of Intelanco Bespoke Analysis (2012 – 2014), an analyst at the Institute of World Politics (2005) and provided political support to the Head of the negotiations for the accession of Cyprus to the EU, George Vassilios.
He is a member of the Board of Directors of the Oncology Center of Bank of Cyprus and a member of the Board of Directors of the Cultural Foundation of Bank of Cyprus.
He completed his political science studies at Rutgers University in New Jersey, USA in 2002 and his master's degree in International Relations and International Economics from Johns Hopkins University in Maryland in 2005.