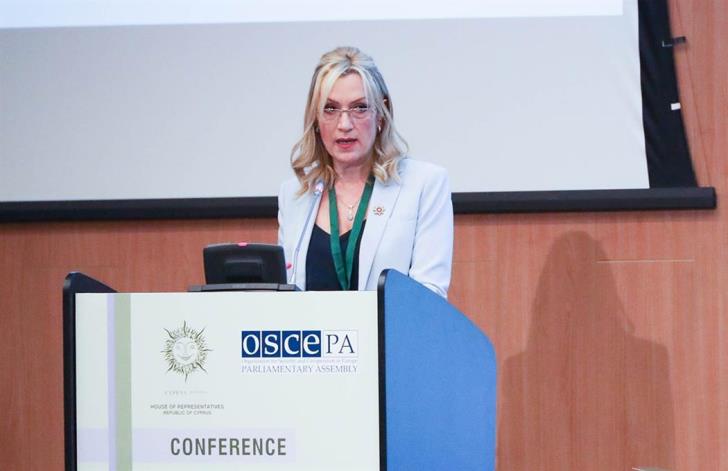 & nbsp & nbspFrixos Dalitis & nbsp; & nbsp;
A proposal with a law that wants to ensure the effective parliamentary control of state officials, submits MP Irini Charalambidou. A settlement which, if finally voted by the Parliament, will oblige even the Attorney General himself to appear when summoned, before the Parliamentary Committees for control. & Nbsp;
As stated in the explanatory memorandum of the bill, the purpose of the bill is to ensure the effectiveness of parliamentary scrutiny, especially after the Government's position, based on the opinion of the Attorney General, that Government ministers are not subject to parliamentary scrutiny. and are not required to appear before parliamentary committees, contrary to the established practice of recent decades. & nbsp;
MP Irini Charalambidou explains that, as is currently the Law of Parliament (Law 21/1985), only the Auditor General with his Assistant, the Governor of the Central Office and the Assistant Attorney General and all the civil servants of the wider public sector. The President, the Ministers, the Deputy Ministers, the Attorney General, nor the presidents and the members of the boards of directors of the semi-states, the mayors, the commoners, etc. have no such obligation. , as well as judges.
Under the amendment, no one will be exempt from the law except the President of the Republic and the judges. in Parliamentary Committees. .
As typically stated in the bill, "State Officer" means Minister, Undersecretary, Government Representative, the Independent Officials of the Republic referred to in Part VI of the Constitution, the Chief and Deputy Chief of Police, the Chief and Deputy Chief of the National Guard, Office of the President of the Republic, the Secretary of the Council of Ministers, Commissioner, Superintendent, Regulator or President and members of an Authority or other Body appointed by law or decision of the Council of Ministers, the Presidents and members of the Boards of Directors of legal persons under public law, including any other non-civil servant holding an office or position for which the salary or remuneration or compensation or sponsorship is paid by the Republic or a legal person governed by public law, but does not include the holder of a position in the Judicial Service of the Republic. "
It is added that Article 11 of the basic law is amended by adding at the end of paragraph (3) the following reservation: "It is understood that in case the case concerns the Attorney General and the Parliament decides that the public interest requires further promotion transmits the conclusion of the Examination Committee, together with the collected real material, to the President of the Republic ".
& nbsp; Ms. Charalambidou also explains that," the law as it If there is a violation of the law, the Plenary Session may decide to refer the matter directly to the Attorney General or, in cases of special importance to the public interest, to set up a committee of inquiry. For this second case, the amendment clarifies that, if the Plenary after examining the conclusion of the Committee of Inquiry decides that there is a case, then in the case of the Attorney General the conclusion does not go to him, of course, but to the President ".