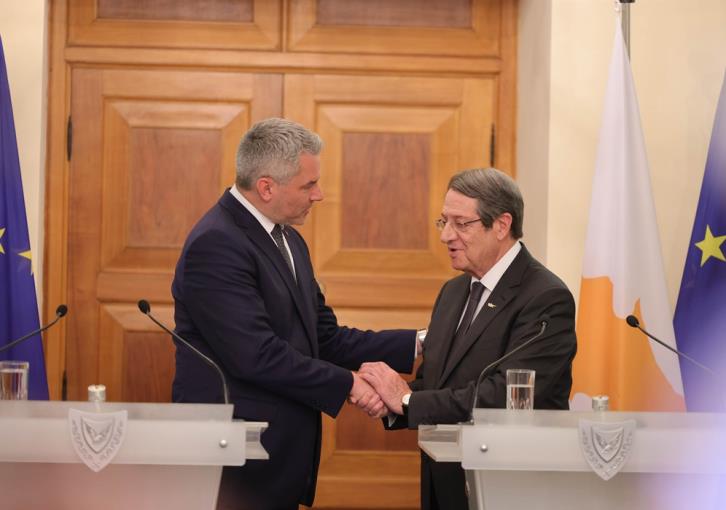 The President of the Republic Nikos Anastasiadis received on Wednesday afternoon at the Presidential Palace the Austrian Chancellor Karl Neuhammer, who is making an official visit to Cyprus.
After the official reception in the forecourt of the Presidential Palace, the two men had a private meeting, while there was also a presentation of medals and an exchange of gifts on both sides. Extensive consultations followed.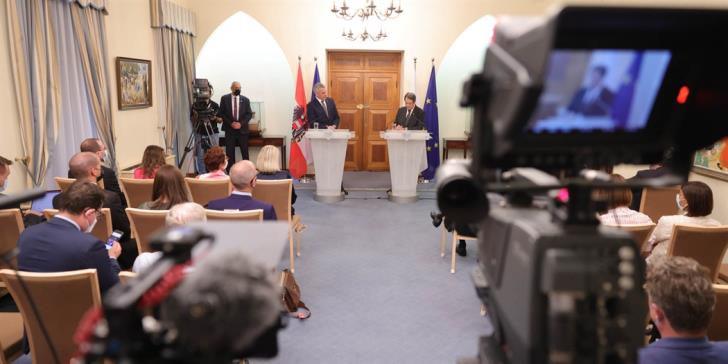 On the agenda of the talks, as officially announced, are Cyprus-Austria cooperation on a bilateral level, coordination within the EU, the war in Ukraine and the humanitarian crisis, the energy perspective of the Eastern Mediterranean in relation to the EU's energy policy and security , immigration, as well as regional developments in the Eastern Mediterranean and the Western Balkans region.
The President of the Republic will inform the Austrian Chancellor about the efforts being made to ending the Turkish occupation, the Turkish provocations and the initiatives he undertook to restart negotiations, with the aim of finding a solution.
Statements will follow later, while in the evening President Anastasiades hosts an official dinner in honor of the Austrian Chancellor .
CUP