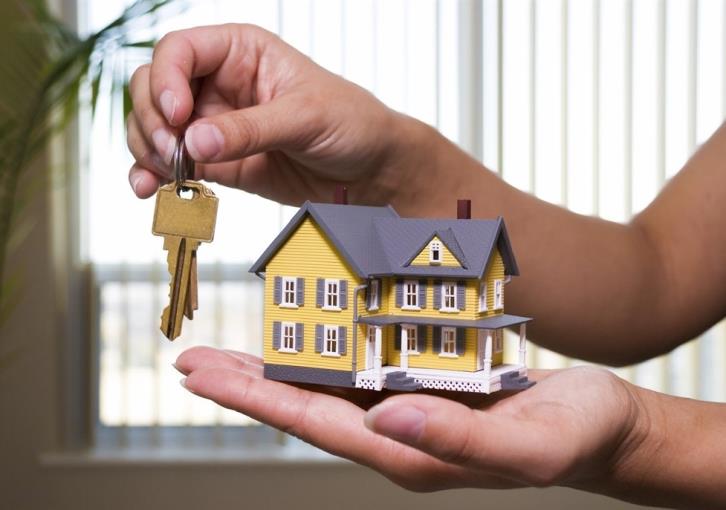 Socrates Joachim
The comparison of prices and sales volume for the two years 2020-2021
The current global pandemic (covid -19) not only did not slow down the demand in the real estate market for the ten municipalities of the province of Nicosia, but on the contrary in most cases it also recorded an increase. I nsider with the help of L andbank R eal E state A nalytics, has processed and presented to you the data concerning the average price of real estate and the volume of sales in each municipality, as well as the annual change for all types of real estate for the years 2020 and 2021. The data to be noted do not concern the restructurings the exchange of debt against real estate.
The data we processed show that in the two years 2020-2021 most sales for all types of real estate were made in the Municipality of Nicosia 815, followed by the Municipalities of Strovolos with 734, Lakatamias with 488, Latsia with 288 and Aglantzias with 279. On the opposite bank the least sales were recorded in Tseri 126, Agios Dometios with 137, Geri with 155, & nbsp; Engomi with 190 and Dali with 218 sales.
INCREASES IN SALES IN ALL MUNICIPALITIES
Compared to 2020, the largest increase in sales in 2021 was recorded in Cherry with 220%, followed by Geri with 160.47%, Dali with 157.38% and Lakatamia with 75.71%. An increase in sales was recorded in the other Municipalities, namely 59.46% in Latsia, 57.91% in Nicosia, 40.51% in Engomi, 32.28% in Strovolos and 25% in Aglantzia.
SALES VOLUME TABLE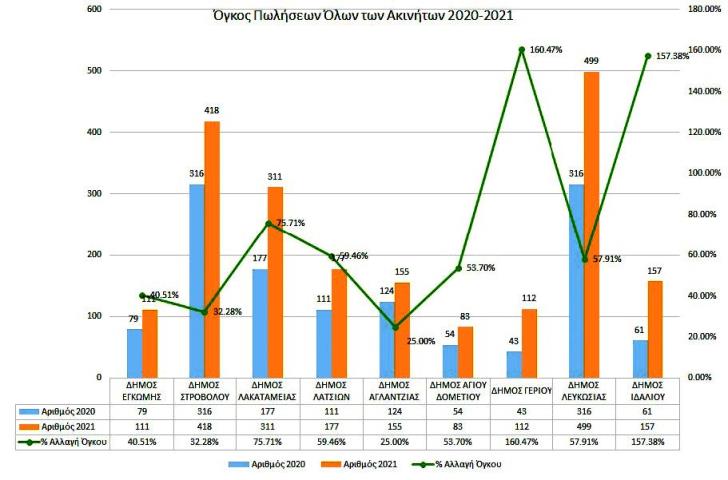 PRICE INCREASES IN 6 MUNICIPALITIES
However, increases in the average price were recorded beyond Engomi in 5 other Municipalities, namely 16.72% in Strovolos, 15.17% in Aglantzia, 13.8% in Lakatamia, 12.28% in Agios Dometios and 1.13% in Latsia . The largest decrease in the average selling price of all types of real estate was recorded in Dali with 23.03%, followed by Cherry with 18.08%, Nicosia with 2.17% and Geri with a decrease of only 0.22%.
AVERAGE PRICE OF SALE 2020-2021
Regarding the average selling price in the two years 2020-2021, Engomi prevailed marginally of Strovolos with an average selling price of € 221,767 and € 221,162 respectively. Lakatamia followed with € 176,098, Latsia with € 167,407 and Aglantzia with € 152,383. Regarding the lowest average price of two years in all types of real estate, it was recorded in Cherry with € 136,756, in Dali with € 147,630, in Agios Dometios with € 151,596, in & nbsp; Nicosia with € 151,746 and in Geri with € 152,154.
TABLE OF DATA DETAILS
2022/03/ca108d079b3e21876273bdc4a591564f.jpg "alt =" & Eta; & mu; έ & sigma; & eta; & tau; & iota; & mu; or & gamma; & iota; & alpha; & alpha; & kappa; ί & nu; & eta; & tau; & ta; & pi; & omega; & lambda; or & theta; & eta; & kappa; & alpha; & nu; & sigma; & tau; & omicron; & upsilon; & sigmaf; & delta; or & mu; & omicron; & upsilon; & sigmaf; & Lambda; & epsilon; & i? & sigmaf; "/>