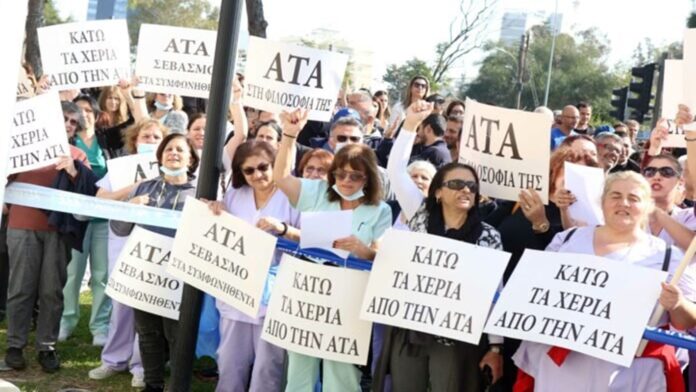 All-union meeting to inform the organizations of the wider public sector, on the proposal of the Minister of Labor and Social Insurance, Yiannis Panagiotou, for the Automatic Price Adjustment (ATA), it was decided in a joint meeting of the four trade union organizations SEK, PEO, DEOK and PASYDY. The all-union meeting will be held today, Thursday, May 4, at 4:30 p.m., at the offices of the SEC, in order to discuss how the union front will react.
During their previous meeting, in which the four trade unions, SEK, PEO, DEOK and PASYDY made an assessment of the mediation proposal of the Minister of Labor for ATA, there was consensus that the framework given by the Minister of Labor is problematic and cannot form the basis for a new agreement for ATA.
PASYDY identifies positive and negative elements in the government's mediation proposal for ATA.
Speaking to the Third , the General Secretary of PASYDY, Stratis Matthaiou, classified the percentage increase of ATA among the positives of the proposal, while he characterized as negative the fact that there is no timetable in the agreement for the full restoration of the institution.
Mr. Matthaiou also stated that the leadership of PASYDY has the authority to discuss and reach a joint decision with the rest of the unions, at today's All-Union meeting. extension of dialogue
The burning issue of ATA and the mediating proposal submitted by the government were put on the carpet, at conferences of the KEBE.
As is validly informed by OMEGAlive , no "white smoke" emerged from the conference regarding the intentions of the KEBE.
According to information, the KEBE will request clarifications on specific points of the government proposal.
According to competent sources, the intention of the KEBE is not to derail the dialogue, but rather to continue it in order to find the golden ratio.
However, in the KEBE, although they still believe that the ATA should be abolished, however, there is an intention to discuss, at the same time ruling out the possibility of granting ATA at 100%.
source: OMEGALIVE