< The plane carrying the body of the late Minister of Labor and Social Security Zeta Aimilianidou, who lost her battle for life on the night of Monday, June 6, while she was being treated at a Medical Center in Larnaca, arrived at Larnaca Airport at around 18.10. Greek capital.
The body was accompanied to Cyprus by the Minister of Health Michalis Hadjipandella and the General Director of the Ministry Christina Giannaki.
Immediately after the landing of the aircraft, The body of the Minister was transported by hearses outside the official hall of the old Larnaca airport where the Protosyggelos of the Holy Metropolis of Kiti, Archimandrite Stylianos Stylianou, performed a trisagion.
In his statements, the Minister of Health, Michalis Hadjipandela, stated that "in these difficult times, words are useless. We have lost an excellent colleague and a very good friend, the gap she leaves for her family and for our country is unfilled ".
She accompanied the body of the deceased to Nicosia police force.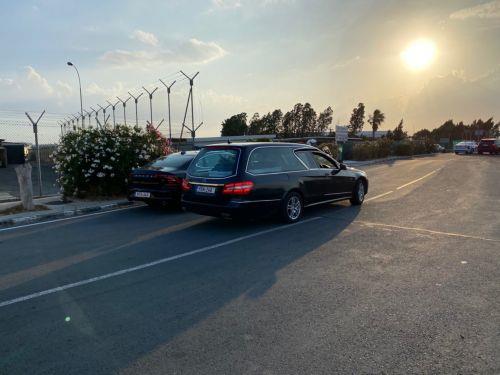 It is recalled that with a decision of the Council of Ministers, a three-day national mourning for the death of the minister was declared from today.
The following were also decided by the Council of Ministers this morning:
< The exit sequence where Zeta Aimilianidou will be led to the Holy New of God Sophia on Friday at 11:00 in the morning. The Minister's funeral will be attended by the President of the Republic and the Council of Ministers as a whole.
Also, three days of mourning from today until Friday, with the flags waving at half-mast.
It is noted that tomorrow the President of the Republic is going to go to the Ministry of Labor to sign the book of condolences.
All official events and officials' cancellations are canceled until Friday.
A book of condolences opens at the Ministry of Labor by Friday. The book of condolences will be open today from 12pm to 3pm, on Thursday from 9.45am to 3pm and on Friday from 8am to 3pm.
, the Government Spokesman, the Undersecretaries under the President, the Deputy Government Spokesperson and the Director of the Office of the President of the Republic will sign the book of condolences, on Thursday, June 9, at 9.15 am
The The body of the minister will be placed in a popular pilgrimage to the Holy Temple of God Wisdom, on Friday from 8:00 in the morning until 10:00. He will be buried at the expense of an acting minister, at public expense.
Those members of the Public Service, the wider Public Sector, the Education Service and the National Guard who wish to attend the funeral will be able to do so .
Those officials wishing to attend the funeral of the deceased should contact 22867542, 22867541 on Wednesday between 12pm and 3pm and on Thursday from 8am to 12pm./p>
With information from KYPE