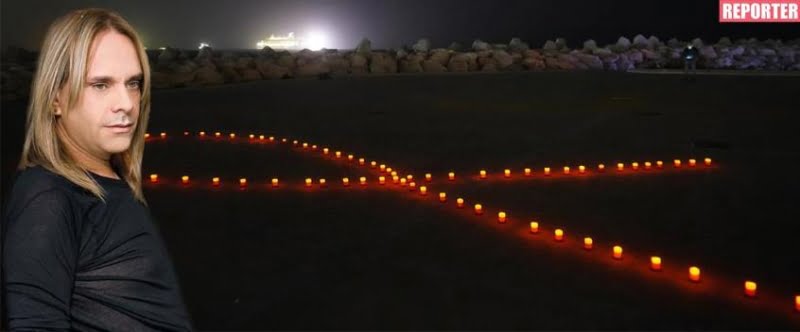 When someone hears the word HIV, they immediately associate it with AIDS and the first thought, intentionally or unintentionally, is "far from us". The second is "how did it stick?" and the third is "pity". All these thoughts could be said to be the result of prejudices, opinion and myths, created thirty years ago. Back when science was in its early stages and didn't know what this disease was.
And it may have been at least three decades since the scientific community was first confronted with this particular condition, and over the years, proper medication can render a carrier non-contagious and undetectable, yet minds are stuck in the decade of 1980. As then, so now, the word HIV and AIDS are the greatest taboos for society, which closes its ears to what scientists have to say, turns its head away and does not see the desperate efforts made by various links, to view the rights of these individuals.
The links have become their voice, their face and their body, since HIV-positive people not only seek to keep the fact that they carry the virus a secret, but are also wary of who to refer to. There are many examples of people who trusted the wrong people, which ended up causing them significant problems. This is also the role of KYFA, which since 2000 has been fighting to respond to the needs created for HIV-positive people, due to society's prejudices.
A Non-Governmental Organization that is constantly fighting to claim even the self-evident many times, for the specific people. Stella Michailidou has identified her name with KYFA, since she has become the representative of these people and most of the time she receives malicious comments from many. But, she is not alone. By her side, in addition to the KYFA team, who are helping people in need, is also her brother, Stratos Dimitriou, who for the last decade or more, has been trying to give a cheerful note to all the darkness that exists around from the subject of "HIV/AIDS".
Through the calendar he is preparing, with photographs of several important people, both from the business world and from Cypriot showbiz, he wants to convey the message that we should all be interested for everyone and not to take it for granted that the virus does not touch us.
"The KYFA calendar has now become an institution. Because as a family what we hear, see, experience and affect us, we share it with each other, listening to my sister, for so many years, about the problems, I also wanted to do something, with which I would make people aware and gather a group , which will work on it and at the same time learn about the specific topic.
A calendar is something that a group of people work to create and other people are invited to be photographed. Thus, you come and sensitize some people, which under other circumstances, would not happen. We bring them to be photographed and work, they listen and learn. I want to make another note. AIDS is a disease and it is something that causes you grief. I want to give a joy, to all the people suffering from this that yes we care for you, we work for you, we offer to you. I want to give the happy message regarding this matter.
When we do the calendar there is a very nice mood because everyone comes to help, for the specific purpose. There is the philanthropic feeling, the support for the fellow man and there is no profit-making part. At the same time we create something beautiful, we work for this thing and we also bring out our artistic part".
Who are participating in this year's photo shoot
Every year, the names of the people who are photographed for the specific purpose change, since they do want there to be a continuity of the institution, however Mr. Dimitriou wants to show that it is something that everyone can contribute to and help, even if at a minimum.
"This year there is a large group of people who will participate. First of all I would like to thank a great group of people who work to make this thing happen, because to make a calendar you need graphic designers, hair stylists, makeup artists, photographers. The whole team always works unselfishly. This year, the calendar is sponsored by L'oreal Paris, which has also sponsored last year. The graphic designer is Tatiana Mitsi, who has made all the calendars we have made so far, for over ten years. Our photographer is Xanthos Georgiou and make-up by Kosmas.
I wanted to thank Poly Hatzigeorgiou, who is a person who is very aware of the specific issue and has helped a lot in the realization of this piece. I also wanted to thank the people who hosted us for the photo shoot.
For the calendar, this year, Katia and Elina Theodotou, Chrysis Michailidou, Fotini Tsiridou, Andria and Thelxia Fragoudi, Ismini Papakosta, Maria Ioannou, Marita Vassiliou, Polly and Laura Hatzigeorgiou, Maria Tsokkou, Gogo Alexandrinou and Charalambos Broutzos, Noni Kyprianou, were photographed. together with her daughter, Solia and Sarah Pournevec.
All the people accepted with enough willingness to do this thing and work on this particular issue. So did our contributors and they were anxiously waiting for us to start our photography".
What impressed us is that only one male name was heard, among so many female ones. "Only one man happened this year, but men are generally difficult to photograph. This year Mr. Brutzos happened to be the only man. Last year we had others. Charalambos himself, although he doesn't like to be photographed, wanted to do it."
"There were people who refused, I don't know the reason"
The nature of the diary and its content is such that it causes a little hesitation in Mr. Dimitriou to go out and knock on the doors of various people to be photographed.
"I move around people I know, because it's not easy to sit down and approach people, especially on this topic. Fotini, I knew her from before, she was photographed last year and showed great willingness. Those who have been photographed for so many years are from my close circle, that is, you tell some people and they come to be photographed. Then they recommend themselves, like Polly did, who recommended several girls to me in Nicosia. As the years go by, you want to photograph new faces, so that they are not always the same.
There are people who refused to be photographed because they don't like being photographed. Sensitized people will tell you that they don't like being photographed, but they will ask how they can help and contribute. So you know this person isn't doing it out of indifference. I'm the same way, I don't like being photographed. There are people who didn't want to be photographed, they told me and it was over.
I can't know if they do it because they are afraid of being stigmatized. It's something you can't be sure of unless they say it and it's something I don't want to think about. I want to feel that they just didn't want to be photographed, because one thing I'm saying is that we're dealing with some people, with serious problems and because of the stigma that exists, they can't come out themselves and talk about their rights. We see on social media that cancer patients come out and show us their scars or their shaved head after chemotherapy and send a lot of messages. In this case, you won't see a video of an HIV-positive person coming out, showing his face and telling his problems.
The problems are huge. We have seen people leave and perish from ignorance, from indifference, from marginalization, from intimidation and in general in the country we live in there is a lot of intimidation, for many things. AIDS is also equated with sexual identity, that it is a disease for homosexuals, which is not the case.
What I want is all of us working for the specific purpose and then we will enter an event hall, to we are shouting in our own way that this thing exists, you are helping the world. We must become their voice and claim their rights".
Calendar available in December
"The calendar will be released on December 13, when we will have our party and then the purchase locations will be announced, that is, where people can find and buy it. We always make the calendar and then we have a party where we present the calendar and there are the people who worked on it and people who were invited. Because it's a non-profit that everyone works for, we don't have a net income and a part will be kept by us. All the proceeds will be allocated to KYFA".
The message that Mr. Dimitriou wanted to send is simple and it is something that is repeated by those who deal with the issue of HIV/AIDS.
< p>"To be the voice of the people who cannot speak. This doesn't have to be just for people with AIDS, but for every person who can't claim for their own problem. Let us dare to shout for the people who cannot shout".
"In one case the three-year-old baby was diagnosed with HIV first, and then the mother"< /li>
"When I found out I had AIDS I told my brother to find a cremation place"
"When I was diagnosed with Aids I was forced to resign… Friends they abandoned me"
"They left an HIV-positive woman with blood on her head, they chased her away"-Increase in HIV cases
It was discovered in Cyprus a new strain of HIV-"Not identified elsewhere"