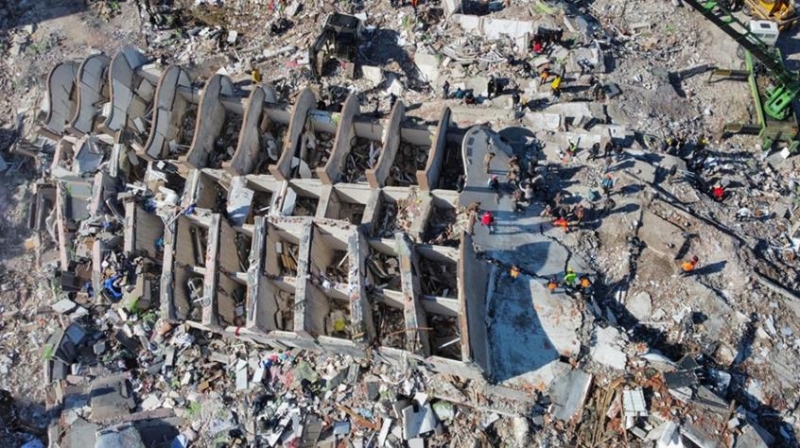 The Chancellor's Authorities, the Council and the community of the University of Nicosia extend their sincere condolences to the families of all the victims of the earthquakes in Turkey and Syria, it is stated in a statement from the university on Tuesday.
It is also noted that as part of the academic community, the University of Nicosia mourns and expresses its solidarity "to the families of our Turkish Cypriot compatriots who lost their own, students and teachers, as a result of the deadly earthquakes in Turkey", adding that "our thoughts remain with the injured , to the missing and to the hundreds of thousands of homeless".
Besides, Olympiada Neapolis today deposited the symbolic amount of 500 euros in the account of the Pan-Cypriot Coordinating Volunteer Council for the victims of the deadly earthquakes in Turkey and Syria. in memory of the school children of occupied Famagusta, who went with teachers and some parents for a volleyball tournament in the Antiyaman region of Turkey and were recovered dead from the ruins of the hotel where they were staying.
"Our refugee association, the members, the coaches, the female athletes and the athletes of our football teams express our deep sadness for the loss of the children of Famagusta", it added in this regard.
At the same time, the Community Council Talas announced that he is conducting a campaign to collect humanitarian aid for those affected by the deadly earthquake in Syria and Turkey.
As mentioned, the collection point is the hall under the new church of Tala, while the collection of food will continue until February 17.
It is noted that the items collected include dry food (e.g. canned food, cereals, nuts, biscuits, flour, spaghetti, milk powder for children/baby food), as well as sleeping bags and underlays, blankets, winter clothes and shoes, personal hygiene items, detergents/cleaning items and diapers for children and adults.
Finally, the Pan-Cypriot Volunteer Coordinating Council thanked with its announcement on Tuesday those who contribute to the fundraiser it is conducting to support the earthquake victims in Turkey and Syria.
As reported, the President of the Council Ilias Dimitriou said that it is observed with great emotion the large flow of contributions to the Council's accounts for the fundraiser for the earthquake victims and addressed a new appeal to citizens, companies and all organized groups to continue supporting this great global Cypriot effort which is supported by the state.&nbsp ;
It is reminded that the product of the fundraiser will be allocated to cover the needs, in cooperation with the competent authorities of the state, while the bank account details of the Pancypriot Volunteer Coordinating Council for the fundraiser are as follows:
BANK OF CYPRUS
IVAN: CY60002001950000357015667368
Account Name: Pankyprio Synt.Symv.Ethel.(Eranos)
HELLENIC BANK
IVAN: CY57005001050001051113724401
Account name: PANG.SYNTON. SYMV. ETHELONTISMOU