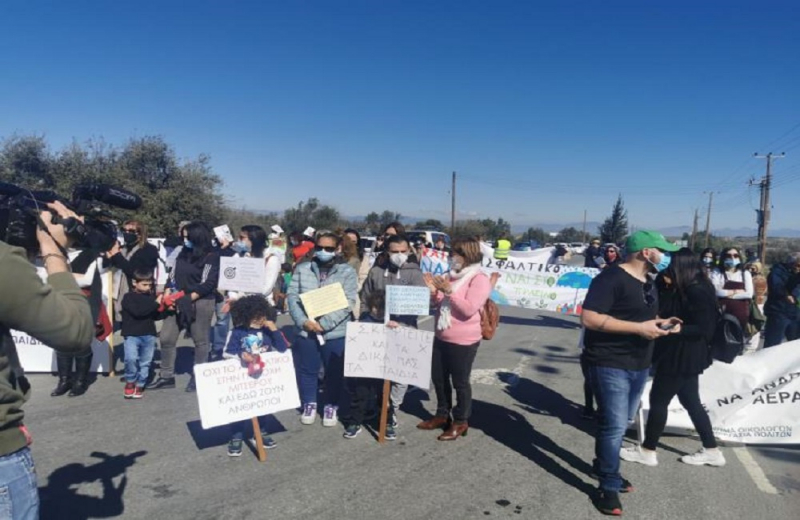 The initiative group of communities affected by the decision "Communities in Action" held a protest today, Saturday, against the Government's decision to move an asphalt factory in the Mitseros area within 3 months.
The event, according to an announcement by the Group, included the closure of the Nicosia-Paleochori road at the junction with the Agios Ioannis-Kato Moni road.
It was attended by residents of the 12 affected communities – Agia Marina, Agios Epiphanios, Agios Ioannis, Agrokipia, Aredios, Kalo Chorio, Kato Moni, Kliros, Malountas, Menoikos, Mitseros and Orountas.
The protest, it is added, was supported by the presence and the positions of the deputies and representatives of the Parliamentary Parties (AKEL, DIKO, ELAM, EDEK, DIPA, ECOLOGISTS MOVEMENT), Environmental and Agricultural Organizations, the United Movement and other and citizens, as well as the metropolitan of Tamassos and Mount Isaiah.
Sotiris Kyriakou, mayor of Agrokipia, spoke at the event from the 12 affected communities. At the end of the protest, the gathered people approved by word of mouth the following resolution to the President of the Republic.
The resolution expresses strong opposition and indignation for the decision of the Council of Ministers, as the relocation of the asphalt unit "Prometheus" in their area and for the schedule of its relocation within 3 months.
Reference is made to a "premeditated political decision that guided all the competent authorities of the state and the scholars in its achievement" and studies are invoked that will affect the health and quality of life of the inhabitants.
As mentioned, the residents demand immediate revocation-cancellation of the decision to move the asphalt plant in the area, supervision of the existing annoying activities and implementation of court decisions, as well as protection of their human rights and ensuring health and quality of life.
Source: KYPE