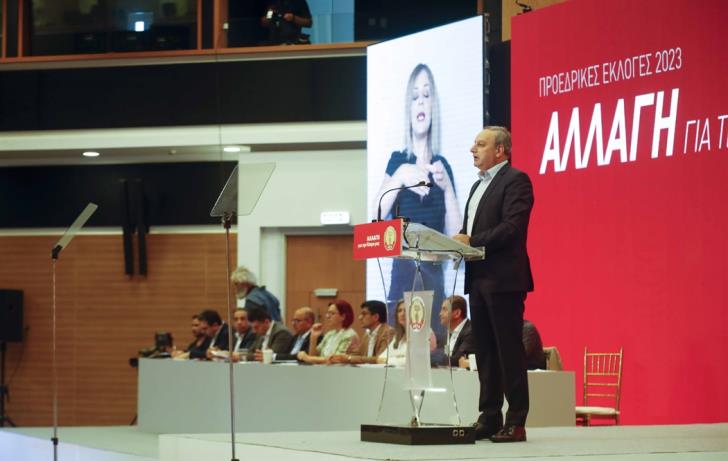 & nbsp & nbspFrixos Dalitis & nbsp; & nbsp;
Hard work, unity and support of the party's decisions, for the realization of the goals in the upcoming presidential elections with Andreas Mavrogiannis as a candidate. This was the main axis on which the leadership of the Left party wants to move in the next period and until the presidential elections, in order to win the bet on the progressive change it invokes, on the one hand, and on internal party calm and stability.
This was the message he wanted to send during yesterday 's pan – Cypriot conference with which he concluded the process for the presidential elections. "All together for Change", was the slogan with which they welcomed the result of the secret ballot. The proposal for Andreas Mavrogiannis prevailed -as it was expected- solemnly with a percentage of 90%. & Nbsp;
In the context of the closed-door discussion of the conference, the positions were from the beginning divided into pros and cons with the same number of speakers, with the dissidents focusing, as reported, on the fact that Andreas Mavrogiannis was a negotiator and close associate of Nikos Anastasiadis. Reports which were answered by MP Christos Christofidis and MEP George Georgiou. Two interventions which were characterized as decisive.
Of course, the reports of Stefanos Stefanos about the cooperation of those who believe in the real change around Mavrogiannis were also remarkable. He stated that it is time for political excesses and not for party entrenchments, highlighting at the same time as a dilemma for the presidential elections, the politicians and not the persons.
Andreas Mavrogiannis announced the announcement b> of the candidacy with a written statement. "I warmly thank AKEL and its people, who, at its Pancyprian Conference, completed its internal procedures and decided to support my candidacy. This decision honors and moves me and puts me in front of the responsibility to lead the great effort for real progressive change in the place. This generous and generous support opens up prospects for broad dynamics. "It allows me in the next few days to announce my independent candidacy," he said. The president of DISY in his statements yesterday responded harshly to the reports of the secretary general of AKEL.
READ MORE IN THE FILELEFTHEROS PRESS