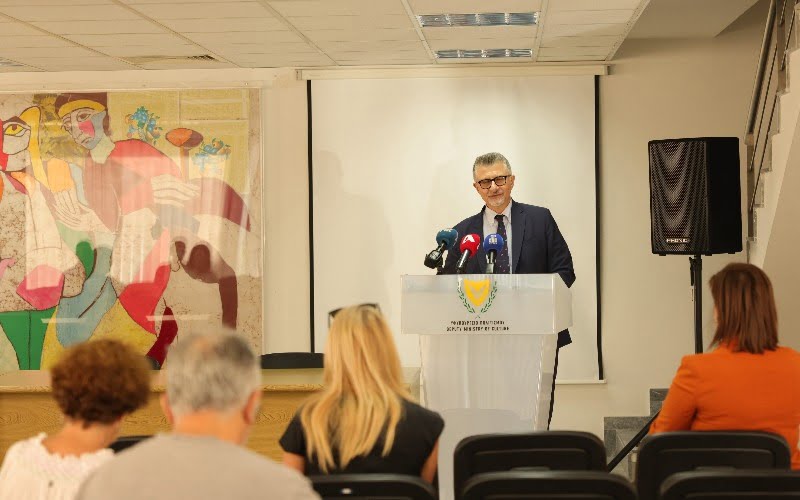 The Deputy Minister of Culture Dr. Yiannis Toumazis announces the CULTURE 2023 Program, at the Cultural Services, Nicosia, Cyprus
The "CULTURE 2023" program was announced by the Deputy Minister of Culture – a projects are in the fields of literature, visual arts, music, dance, theater, traditional culture and cinema
Download the APP of CYPRUS TIMES! HERE for Android and HERE for iOS
The Plans of the CULTURE II Program (2021-2025) for the year 2023, which cover the entire range of cultural activities of bodies, groups of natural persons and individual cultural creators, the Deputy Minister of Culture announced on Friday, Dr. Yiannis Toumazis, at a press conference at the Cultural Services building of the Ministry of Education. The projects concern the fields of literature, visual arts, music, dance, theatre, traditional culture and cinema.
This year's announcement, the Deputy Minister of Culture explained, is made after a series of procedures, which allowed the improvement of the Program. In addition to the internal evaluation process by the Cultural Services, this year, for the first time, the recommendations of external evaluators were also submitted, as well as positions, opinions and suggestions submitted by organized groups of creators, he pointed out.
Then, the Mr. Toumazis referred to the changes that have been made in the Plans for 2023 in relation to the Plans of 2022. The first change is the increase in the amount of the first installment (i.e. the advance payment) granted to approved applicants, which to 75% of the total amount of the approved financing (instead of 60%, as was the case previously). The second change is the increase in the number of days for which a daily allowance can be paid to cover maintenance costs from 5 to 7.
Now, the Deputy Minister of Culture noted, an increase in the amount paid to cover daily maintenance allowance from €100 to €150 per day, while coverage is now also provided at a rate of 5% of the overhead expenses of the entities, which arise in the context of the activity of an entity as an organization and were not previously taken into account.