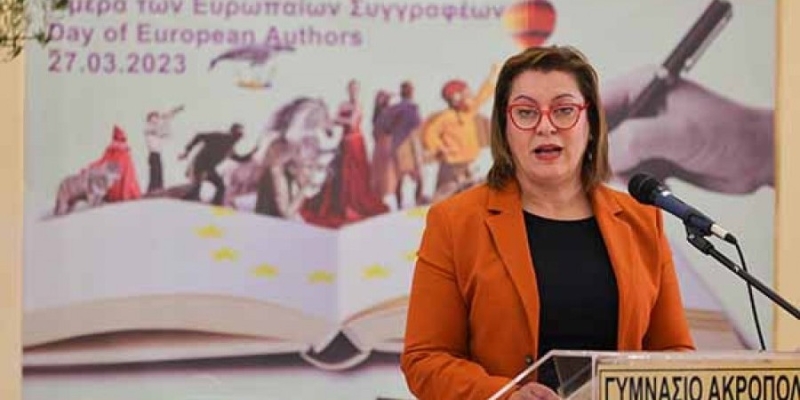 On the occasion of the new initiative of the European Commission which was launched on Monday in the 27 EU member states, the Minister of Education, Sports and Youth, Athina Michailidou, together with the Director General of the Directorate of Education, Youth, Sports and Culture of the European Commission, Themida Christofidou , attended an event at the Acropolis High School, with the distinguished Cypriot poet Kyriakos Charalambidis as guest.
The "European Writers Day" is a new initiative of the European Commission. "This pan-European celebration is expected to take place on an annual basis with the aim of bringing the new generation closer to the book and the richness and diversity of European Literature. The initiative was supported by several secondary schools and was framed by relevant actions", states the Ministry of Education in its announcement.
In her greeting, Mrs. Michailidou praised the new initiative of the European Commission, stressing that it is an opportunity for new generation to "discover the magic of Europe's literary heritage". He urged the students to seize the opportunities given to them to read literature, because as he said, literature "opens doors to new ideas and perspectives and windows to life and other worlds".
Among the benefits of reading, Mrs. Michailidou emphasized that "literature can make the world better". Referring to Mr. Charalambidis, she said that he is an elite of the art who serves with a dominant position among the poets of his generation and of all Hellenism and with a poetic work which transcends national boundaries and addresses the "people everywhere".
A greeting was also addressed by Mrs. Christofidou, who referred to the "Day of European Writers" initiative. of the European Commissioner for Innovation, Research, Culture, Education and Youth Mariya Gabriel, referring to other Commission initiatives such as the ERASMUS + Program, Creative Europe and the EU Literature Prize that support and strengthen education in Europe. She thanked the Minister and the School Management for their support of the initiative and expressed her admiration for Mr. Charalambidis.
Then Mr. Charalambidis spoke to the students about his life and work saying that &laquo "poetry is the lighted candle in the darkness and if it changes us, then it can change the world". He spoke about the value of literature and urged children to read and be educated for life, since, in addition to what else literature offers, it sharpens man's judgment and can distinguish danger at a critical historical time.
The poet also recited an excerpt from his poetic work.