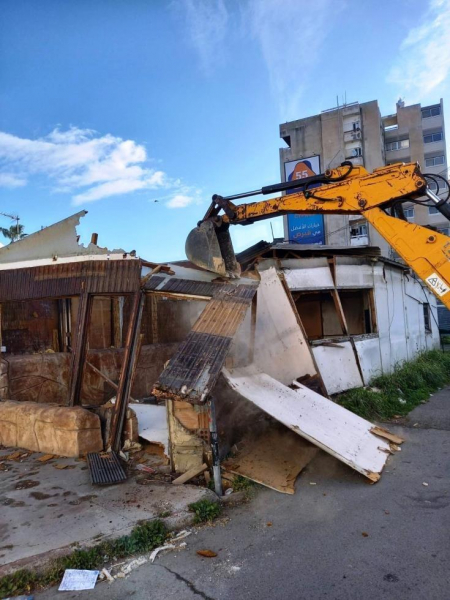 & nbsp & nbspInsider/ΚΥΠΕ & nbsp; & nbsp;
The demolition of six unlicensed premises located on Grigoris Afxentiou Avenue in Larnaca began today, the owners-users of which accepted financial compensation to leave the site, while the Municipality of Larnaca will take legal action for the other five who did not accept any of the two options that were offered to them.
A written announcement of the Municipality of Larnaca states that host refugee professionals, in an area of ​​EVKAF. Over the years, most of them were abandoned and presented with serious wear problems, as a result of which they have rusted and are a danger to passers-by ".
It is added that "for many years, none of the owners of these premises, has any contract and does not pay ownership rights (rent)."
The Municipality of Larnaca "in the context of resolving the issue for these unlicensed premises, & nbsp; submitted, in collaboration with the Guardian of Turkish Cypriot Properties, a specific proposal to their owners – users, giving two options. The first option is to give them a specific financial compensation and to leave the site ".
The second option is" the owners-users to remain in the area, as the existing unlicensed and dangerous constructions will be demolished and to sign a legal concession agreement from the Guardian of T/C Properties, with the payment of an annual rent that will take into account the investment of construction of legal and loaned infrastructures, as moreover is provided by the Legislation ".
According to the announcement "To date, the specific proposals have been accepted by six of the 11 holders while the remaining five have not accepted any of the two. For the six & nbsp; holders who accepted one of the two options, the demolition of the premises started & nbsp; today, Thursday 10 March ".
The Municipality of Larnaca will take legal measures to secure a demolition decree. Similar measures are expected to be implemented by the Guardian of T/C properties ".