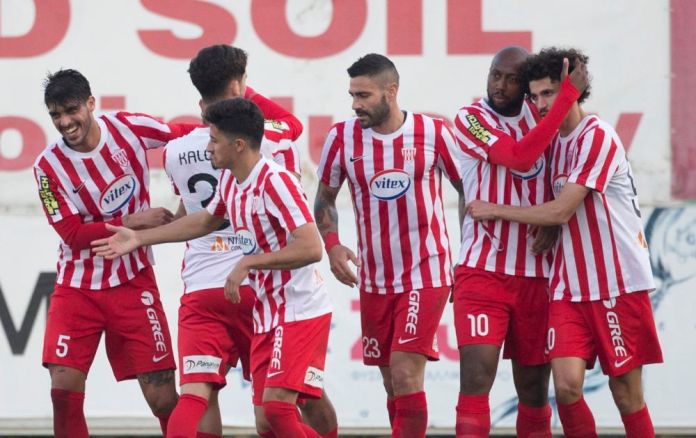 The με style derby took place and Nea Salamina reached the top!
The team of Famagusta won 3-1 against Hermes after a reversal in the last match on Saturday for the 20th game of the 2nd Division, starring Florian Tolmes, who brought the match with a hat-trick alone. !
After Paroutis's goal in the 13th minute, with which the "winged legs" took the lead, the French striker took action. Initially he equalized at 45 ′, at 50 σε he completed the upset and with his third goal in the 69th minute ισε he sealed the great victory of the red and whites, who made it 3/3 with Savvas Poursaitidis on the bench.
Nea Salamina reached 41 points, surpassed Alki (39), Enosi (39 with less matches) and Akrita (40) and climbed alone to the top of the standings, in anticipation of Sunday's match between Paralimnites and Olympia.
On the other hand, Hermes with his second consecutive loss lost ground as he fell to sixth place (Karmiotissa overtook him earlier) and is now three points away from the climbing positions.
The 20th race
Friday 11/2
Akritas Chlorakas – Alki Oroklini 2-0
Saturday 12/2
Omonia Aradippou – Liopetri Barn 1-1
PO Xylotympou – Omonia May 29 0-1
Karmiotissa Polemidion – Onisilos Sotiras 1-0
Othello Athienou – Renaissance Deryneia 2-1
Ayia Napa – ASIL Lysis 1-1
Nea Salamina – Hermes Aradippou 3-1
Sunday 13/2
15:00 Olympia Lympia – Paralimni Youth Union
The rating:
1. Nea Salamina 41
2. Akritas Chlorakas 40
3. Paralimni Youth Union 39 (-1 match)
4. Alki Oroklini 39
——————————————–
5. Karmiotissa Polemidion 38
6. Hermes Aradippou 36
7. Othello Athienou 26
8. Onisilos Sotiras 25
9. Omonia 29th of May 25
10. Renaissance of Deryneia 23
11. PO Xylotympou 23
12. Olympias Lympion 22 (-1 match)
13. Liopetri Barn 18
14. Ayia Napa 17
——————————————–
15. ASIL Solution 16
16. Omonia Aradippou 15