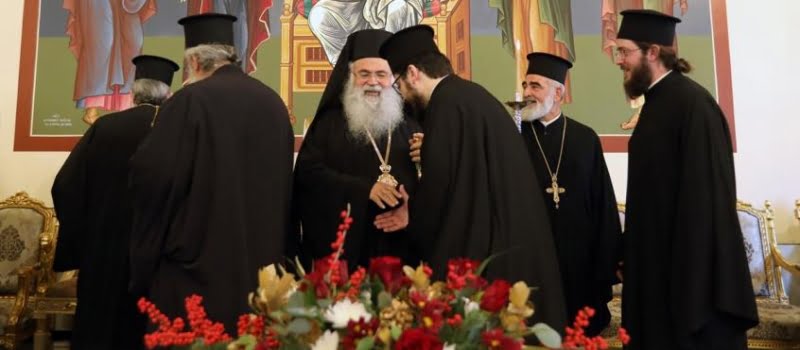 Joyous was the message for the faithful in Paphos, after their Metropolitan was elected by the Holy Synod on Saturday morning, as the new Archbishop of Paphos. The joyful message conveyed by the bells that rang in the morning found many, clergy and laity, gathered outside the building of the Holy Metropolis of Paphos. Some of them in statements to the KYPE emphasized that the nominated Archbishop of Nea Justiniani and All Cyprus, George, enjoys universal esteem and they believe that he is the one who will preserve the tradition of the Cypriot church.
Father Kyriakos who has been in the Holy Diocese of Paphos since May 13, 1973 and lived close to the Archbishop of Cyprus Chrysostomos the First, the late Archbishop Chrysostomos the Second, who, as he said, raised him and then the former Metropolitan of Paphos George and elected Archbishop of Cyprus, he wished that the new Archbishop, who "constitutes a chapter in himself both for religion and for the country", would do the best for the place. The vision of the new Archbishop, said Father Kyriakos, is largely continuation and expansion of the charitable and social work of the Archdiocese, as accomplished by the blessed Archbishop II.
Andreas Chrysanthou, member of the Coordinating Committee for the elevation to the Archbishopric throne of Paphos Metropolitan Georgios, expressed his warm congratulations to the elected Archbishop of Nea Justiniana and All Cyprus and expressed the certainty that he will prove to be a worthy shepherd and leader of the Church of Cyprus. The nominee, he said, "touches and approaches all the modern problems that plague and touch both Cyprus, but also the whole world, through the religious point of view, with an approach that responds to the calls of the times". For this, he noted, "the people elevated him to the trinity and then he was voted to ascend to the Archbishop's throne, precisely for the mild climate and the views he expressed on all the burning problems plaguing the place".
Ioannis Dimitriou, resident of Paphos, congratulated the new Archbishop of Cyprus noting that he has known him very well for years. He is, he said, "full of appetite, he will have great successes, he has all the virtues and ideals and he is worthy of congratulations and I wish him the best".
Manolis Sosimov wished like the new Archbishop of Nea Justiniani and All over Cyprus, George, let something be the best for Cyprus, for the church and for all the people. "He is worthy", she concluded.
Georgia Alekou expressed her satisfaction with the election of their Metropolitan and wished that divine grace would strengthen the work of the new Archbishop of Cyprus. "We love him, we were unimaginably happy today, he said and wished God to bless him so that he can manage the Church, continue the work of blessed Chrysostom II and take it one step further.