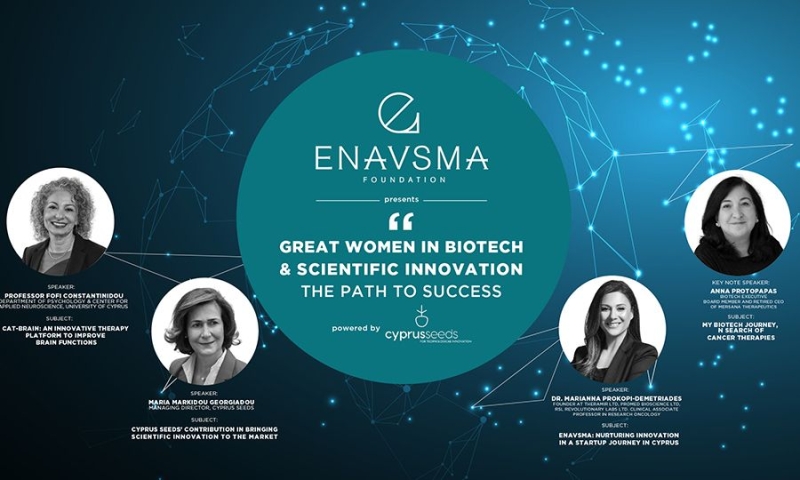 The Enavsma Foundation and the Center for Innovation and Entrepreneurship ''Cyprus Seeds'' are organizing their first scientific panel with speakers from four great women in the field of biotechnology and scientific innovation.
The managing director of Cyprus Seeds, Maria Markidou Georgiadou will refer to the significant contribution of Cyprus Seeds to the scientific innovation of the country, while the university student Fofi Konstantinidou, from the Center of Applied Neuroscience, University of Cyprus, together with the doctoral student, Ioulia Solomou, will present the innovative therapeutic platform that improves brain functions CAT – BRAIN.
Dr. Marianna Prokopi Dimitriadis, founder of Theramir Ltd, Promed Bioscience Ltd, RSL Revolutionary Labs Ltd and Clinical Associate Professor in Research Oncology will present "Enavsma: Nurturing Innovation in a Startup Journey in Cyprus".
Finally, the keynote speaker of the event, Anna Protopapa, who is President and Retired CEO of Mersana Therapeutics, with an illustrious career in America, will convey her knowledge and experiences in the field of biotechnology and cancer treatment research.
Thursday 5 October 2023
18:00
Hellenic Bank Head Office
200 Limassol & Athalassa Avenue, 2025, Strovolos
Entry is free.
The presentations will be in English.
Cocktails will follow.