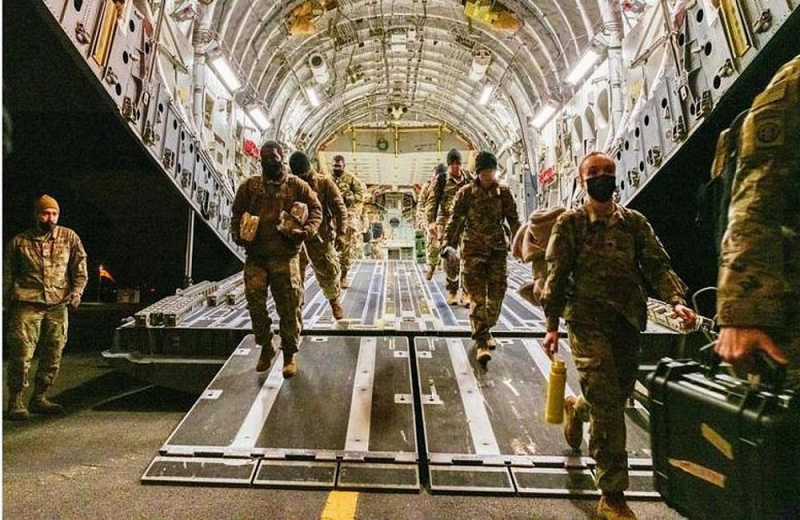 The first US troops to reinforce NATO allies in Eastern Europe and Germany have arrived in Germany amid a build-up of Russian forces near the Ukrainian border, the European Command of the US Army (EUCOM) announced today.
"Troops from the 18th Airborne Corps have arrived in Wiesbaden today," an EUCOM spokesman said in a statement, adding that they would be stationed in Germany to support 1,700 paratroopers to be deployed in Poland.
"This is the first of 2,000 troops to arrive in Europe following the Pentagon's announcement that it will move additional US troops to Europe in support of our NATO allies," the statement said.
On Wednesday, US President Joe Biden ordered the deployment of nearly 3,000 additional troops to Poland and Romania to protect Eastern Europe from a possible "diffusion" of the Ukrainian crisis.
According to the US Pentagon, a group of about 1,000 troops will be transferred from Wilsek, Germany, to Romania.
At the same time, about 1,700, mostly from the 82nd Airborne Division, will be sent from Fort Bragg, North Carolina to Poland. An additional 300 troops from Fort Bragg are to be relocated to Germany.
Ukrainian soldiers high schools using American missiles
Ukrainian soldiers were trained in high schools at the Yavoryov military base in western Ukraine, using anti-tank missiles, launchers and other military equipment provided by the United States as part of a $ 200 million security package.
Soldiers, some of whom wore white camouflage uniforms, fired rockets or watched as military vehicles crossed the snowy landscape. Ukraine has received shipments of US military aid as it prepares for an attack after Russia rallied tens of thousands of troops near the Ukrainian border in recent weeks.
Moscow denies planning an invasion of Ukrainian territory. "These weapons will help to stop the military vehicles, to destroy them. "And in an urban environment they will allow us to destroy buildings where the enemy is hiding," said Andrei Bestyuk, a spokesman for the Ukrainian Army General Staff.
"If you want peace, get ready for war," said one soldier, whose face was covered and who did not want to be named.
Ukrainian Defense Minister Alexei Reznikov said today that the next plane with US weapons is expected to arrive soon.