POWERED BY:
ARCHIKIEIDISEISPOLITIKITOPIKAPARASKINIOMEDIAELLADAKOSMOSEPISTIMIPERIVALLONTECHNOLOGIASYNENTEFXEISCHRYSES ETAIREIESKOINONIAEIDISEISKYPROS OF CHTHESANAGNOSTI HAVE LOGOEPISTOLESSYNENTEFXEISDIMOFILI IN INTERNETVIDEOSAFIEROMATAADVERTORIALINSIDEREPICHEIRISEISKYPROSBRAND VOICECAPITALFORBESBLOOMBERG OPINIONPROTAGONISTESKAFTI GRAMMICHRYSES ETAIREIESKARIERAAPOPSEISARTHRA IN "F" INTERVENTION IN "F" MESSAGE YOUR SKITSAO WORLD TWITTERGOING OUTTHINGS TO DOCINEMAMOUSIKIESTIATORIABAR/CAFETV ODIGOSTILEORASIPOLITISMOSKYPROSKOSMOSKRITIKESEKDILOSEISPROSOPAATHLITIKAPODOSFAIROMPASKETPARASKINIAELLADADIETHNIALLA SPORAPOPSEISSKITSOVIDEOSAUTONEAPAROUSIASIAPOSTOLESAGONESKALI ZOIFGEIADIATROFIEF ZINASTRACHRYSES SYNTAGESSYNTAGES SEFVIMA VIMACHRISIMAFARMAKEIAGIATROIAERODROMIALIMANIATILEFONAOPAPKAIROSSYNALLAGMALACHEIAAPPSPROSFORESENTYPI EDITION POLITIKITOPIKAPARASKINIOMEDIAELLADAKOSMOSEPISTIMIPERIVALLONTECHNOLOGIASYNENTEFXEISCHRYSES COMPANIES EIDISEISKYPROS OF CHTHESANAGNOSTI HAVE LOGOEPISTOLESSYNENTEFXEISDIMOFILI THE INTERN ETVIDEOSAFIEROMATAADVERTORIAL EPICHEIRISEISKYPROSBRAND VOICECAPITALFORBESBLOOMBERG OPINIONPROTAGONISTESKAFTI GRAMMICHRYSES ETAIREIESKARIERA ARTICLES IN "F" INTERVENTION IN "F" MESSAGE YOUR SKITSAO WORLD OF TWITTER THINGS TO DOCINEMAMOUSIKIESTIATORIABAR/CAFETV ODIGOSTILEORASI KYPROSKOSMOSKRITIKESEKDILOSEISPROSOPA PODOSFAIROMPASKETPARASKINIAELLADADIETHNIALLA SPORAPOPSEISSKITSOVIDEOS NEAPAROUSIASIAPOSTOLESAGONES YGEIADIATROFIEF ZINASTRACHRYSES SYNTAGESSYNTAGES SEFVIMA STEP FARMAKEIAGIATROIAERODROMIALIMANIATILEFONAOPAPKAIROSSYNALLAGMALACHEIAAPPSPROSFORES ENTERPRISES LTD BRAND VOICE CAPITAL FORBES BLOOMBERG OPINION PROTAGONISTS HOT LINE GOLDEN CAREER COMPANIES
EXCLUSIVE COOPERATION
TOGETHER
Powered by
Next Forbes Travel Guide 2022 honors Melco with 97 stars HOME • INSIDER • BUSINESS • The Forbes Travel Guide 2022 honors Melco with 97 stars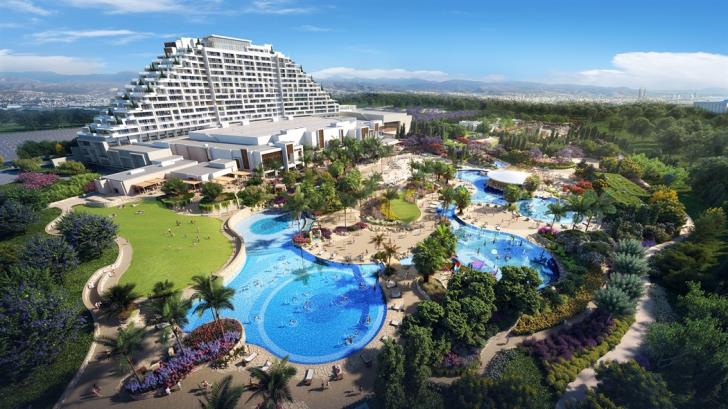 Melco, the company that undertook the development and operation of Cyprus Casinos "C2" and the City of Dreams Mediterranean, the first and only licensed multidisciplinary resort in Cyprus, announced its award with 97 stars from the Forbes Travel Guide (FTG) 2022, including 17 five-star awards. This recognition makes Melco the leading management company of multidisciplinary resorts in Macau and Asia more widely.
Specifically, all the multidisciplinary resorts included in the Company's portfolio, including City of Dreams, Studio City, Altira Macau, and City of Dreams Manila, were honored with the highest distinction of the institution. & nbsp; This top award reflects Melco's commitment to providing top quality services in all three Forbes Travel Guide categories, including hotels, restaurants and spas. It is noted that Altira Macau is honored for the 13th consecutive year with the FTG Five-Star award in the categories Hotels and Spa .
Melco President and Chief Executive Officer Lawrence Ho stated:
"We are especially honored that all the multi-themed resorts included in the Company's portfolio have been awarded once again by the Forbes Travel Guide, which is one of the most well-known and reputable travel guides in the world. This achievement confirms Melco's commitment to excellence and is a recognition of its efforts in terms of offering quality services and unforgettable experiences to every visitor, especially in this difficult period for our industry. We thank our team for their continued commitment and contribution to consolidating Melco as the leading multi-theme resort management company in Macau and Asia. Prioritizing public safety and health as our priority, we continue to offer innovative and exciting entertainment services. With the long-awaited operation of Studio City Phase 2 and City of Dreams Mediterranean, we look forward to expanding our operations and providing unique hospitality and entertainment experiences to more visitors from around the world. "
Melco's award-winning resorts, restaurants and services are: 22
Hotels

Restaurants

Spa

Morpheus, City of Dreams Macau

Alain Ducasse at Morpheus, Morpheus, City of Dreams Macau

Morpheus Spa, City of Dreams Macau

Nüwa, City of Dreams Macau

Yí, Morpheus, City of Dreams Macau

Nüwa Spa, City of Dreams Macau

Star Tower, Studio City

Jade Dragon, Nüwa, City of Dreams Macau

Zensa Spa , Studio City

Altira Macau

Pearl Dragon, Studio City

Altira Spa, Altira Macau

Nüwa, City of Dreams Manila

< td>

Tenmasa, Altira Macau

Nüwa Spa, City of Dreams Manila

Ying, Altira Macau

Aurora, Altira Macau