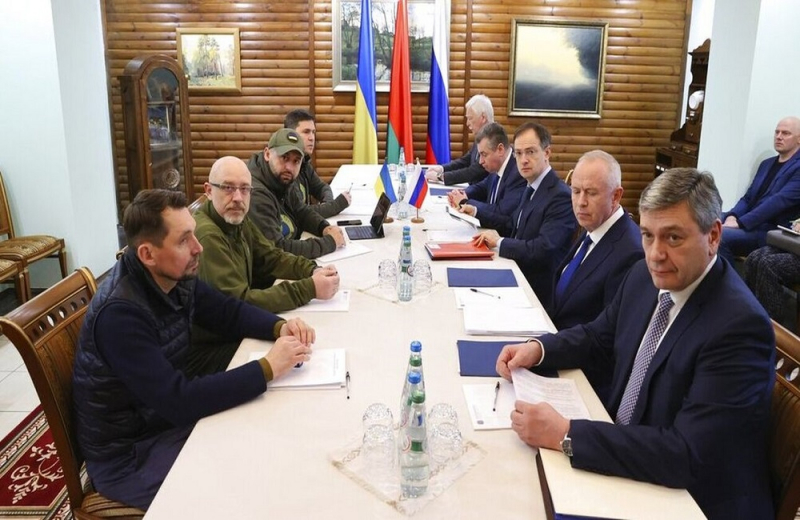 The fourth round of talks between Moscow and Kiev is now in the spotlight, as the last talks between Russian and Ukrainian officials ended just before 20:00 Cyprus time on the Belarus-Poland border, with no substantial developments.
< Moscow tonight announced a ceasefire in specific areas in Ukraine from tomorrow Tuesday 09:00 Cyprus time for the opening of humanitarian corridors, reported the French Agency.
The two sides will continue talks on a ceasefire, said Ukrainian negotiator Mikhail Pontolyak, while Russian negotiator Leonid Slutsky said that the fourth round of talks will soon take place in Belarus.
According to According to a Ukrainian negotiator, the talks with Russia did not lead to a significant improvement in the situation, while there were small, positive developments in the humanitarian corridors, as an agreement on logistical support for the evacuation of civilians was reached.
For his part, the Russian negotiator noted that it is too early to talk about positive steps, while he asked that there be no illusions that after the new round of negotiations there will be a final result.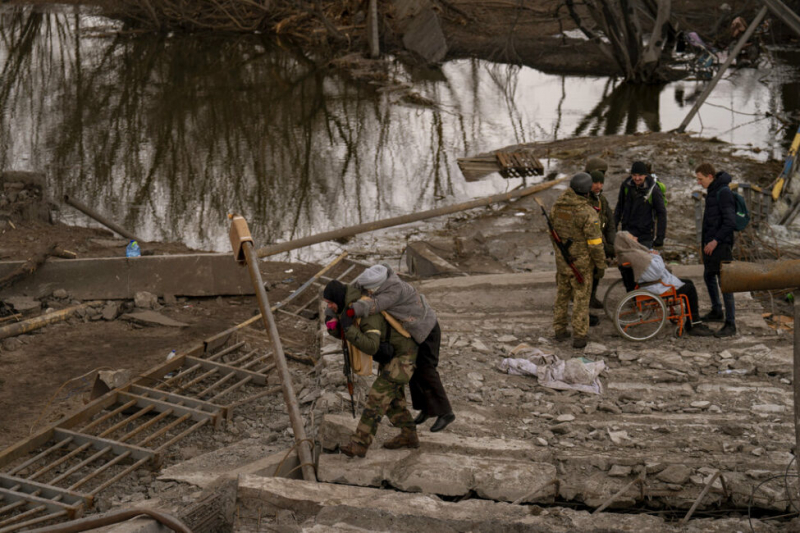 AP Photo/Emilio Morenatti
Mikhail Pontoliak had earlier called on Russia to stop its attacks on civilians at the start of the third round of talks. The Kremlin, however, set four conditions for an immediate end to hostilities. It calls on Kyiv to recognize Crimea as Russian, the independence of Donetsk and Luhansk, demilitarization, and a constitutional amendment to neutralize Kiev with guarantees that it rejects membership in alliances such as NATO. Turkey has agreed to meet in the presence of Foreign Minister Mevlüt Çavuşoλουlu in Antalya on Thursday.
Heavy bombardment continues
At the same time, heavy bombardment by Russian forces targeting key cities such as Kyiv, Kharkov and Mariupol. However, Ukrainian forces recaptured the regional airport in the southern Ukrainian region of Mykolaiv from Russian forces, Regional Governor Vitaly Kim said today.
The bodies of 13 civilians were recovered today from the destroyed building of a bakery in the Ukrainian city of Makariv, in the greater Kiev region, as reported by the emergency services in an online post. Five civilians were rescued according to the same post, while a total of about 30 people were estimated to have been at the bakery before the attack.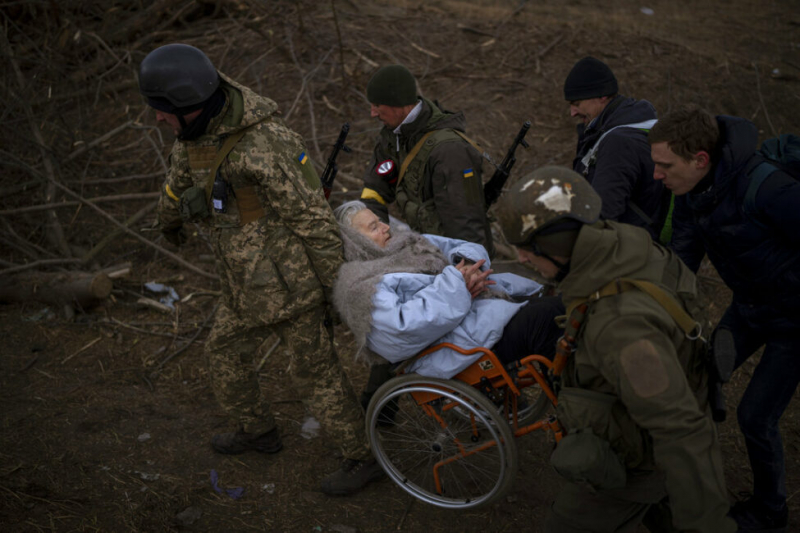 AP Photo/Emilio Morenatti
The United Nations Office for the Coordination of Humanitarian Affairs (OCHA) announced today that it has confirmed the deaths of 406 civilians, including 27 children, in Ukraine since the Russian-led invasion began on February 24, reiterating that the actual number is likely to be much higher.
The World Health Organization announced today that at least nine people have been killed in 16 attacks on healthcare facilities in Ukraine. "As of March 7, the WHO has verified 16 attacks on healthcare facilities in Ukraine. These attacks took place between 24 February and 3 March. "Other incidents are currently being verified," he said via Twitter.
After another night of heavy air, land and sea bombing, the Russian military announced the opening of humanitarian corridors to Russia. and Belarus in Kyiv, Kharkiv, Mariupol and Sumy. Fighting continues in all four cities, Ukrainians say, calling Moscow's proposal immoral.
Russian bombings are blocking the evacuation of civilians from Kyiv, Mariupol, Sumy, Kharkiv, Volnovac and Mykolaiv, the Ukrainian Foreign Ministry said this afternoon. "This prevents the safe passage of humanitarian corridors for Ukrainians and foreign nationals, as well as the delivery of medicines and food," she said in a statement.
"Opening these humanitarian corridors is an unacceptable scenario. "Citizens from Ivankiv, Dimer, Vishorod and Kyiv will not go to Belarus and then to Russia by plane," said Irina Veresuk, Ukrainian Deputy Prime Minister.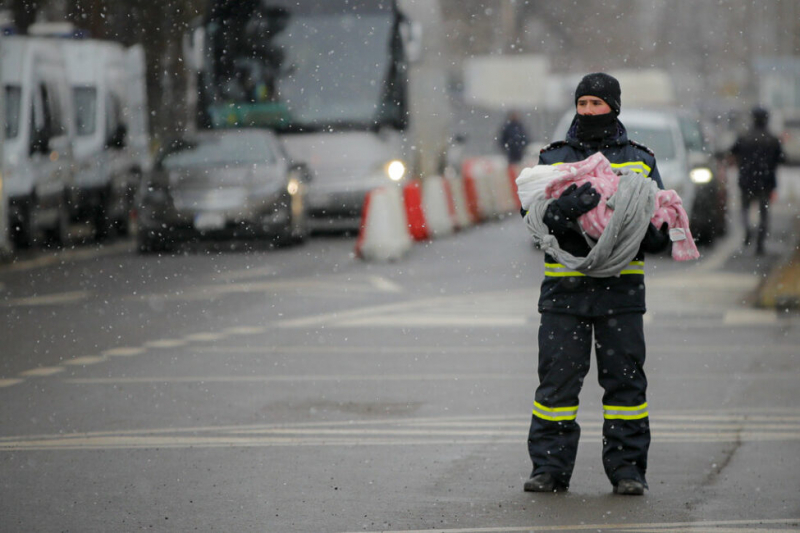 AP Photo/Andreea Alexandru
There have been two failed attempts to evacuate civilians from Mariupol over the weekend, with both sides blaming each other for violating the ceasefire and Russia releasing images of Russians. soldiers on the outskirts of the city.
"This is genocide. Most of the buildings in the city have been destroyed and people are living underground. They are scared, they do not have water and their greatest desire is to find water, not even to eat ", noted the deputy mayor of Mariupol, Sergei Olof.
In a new message, the Ukrainian president reiterated his call for a no-fly zone, calling on the international community to provide Ukraine with fighter jets and a boycott of Russian oil. "You are boycotting Russian exports, especially Russian oil and oil products from Russia. "We are waiting for a decision to clear our skies either with your own forces or by sending us fighter jets and air defense systems," said Volodymyr Zelensky. of the city to have been completely destroyed. At the same time, a video was released, which, according to the Ukrainians, shows the downing of a Russian plane over Kharkov to the sound of applause.
CCTV footage of the shootdown. pic.twitter.com/mNjYGs0Kji

— Kyle Glen (@KyleJGlen) March 6, 2022
Earlier, scenes of insanity had unfolded in Irpin, in on the outskirts of Kiev, when the Russians bombed civilians as they tried to leave the city. At least eight people have been killed in Irpin, including a mother and her two children.
as the siege tightens around the capital.
Heavy bombardment also in Mykolaif in southern Ukraine. The mayor of the city reported that residential areas are being bombed and published videos with residential complexes burning. The airport in Vinitsa was also engulfed in flames after a rocket attack.
The third round of negotiations has ended. There are small positive subductions in improving the logistics of humanitarian corridors… Intensive consultations have continued on the basic political block of the regulations, along with a ceasefire and security guarantees. pic.twitter.com/s4kEwTNRhI

— Михайло Подоляк (@Podolyak_M) March 7, 2022
Source: ertnews.gr