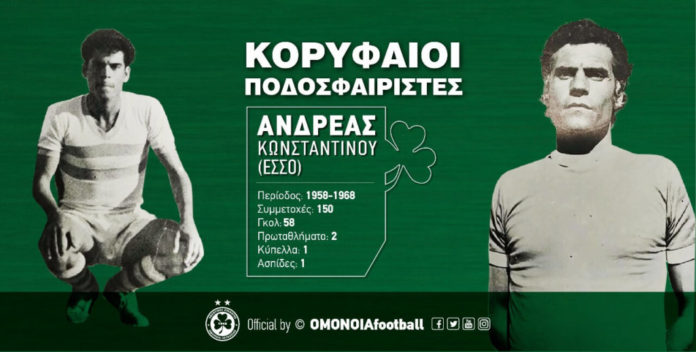 We express our sincere condolences to the family of our veteran footballer and former coach, Andrea Konstantinou, known as Essos, who passed away today at the age of 82.
Andreas Konstantinou – Esso is undoubtedly one of the greatest figures in the history of OMONIA.
He joined our team at a young age, coming from the Renaissance of Pallouriotissa. He played with the "clover" on his chest for ten consecutive years (1958-1968), recording 150 appearances and 58 goals. Celebrated two championships, a cup and a shield. He was considered one of the best Cypriot footballers of the time, but also one of the top midfielders who passed through the Cypriot stadiums.
He was a member of the team that won the championship of the 1960-61 season undefeated, which was the first that OMONIA won after joining the KOP. He was also a key member of the teams that brought the first cup to the "clover" in the 1964-65 season and the first shield in 1966. He was one of the pillars in the first years where OMONIA began to establish itself as the "Queen" of Cypriot football.
He was a complex and complete football player. He played in the midfield and had a highly developed ability to help in the creative game, something that is also evidenced by the large number of goals he has scored. His contribution to the suspension of the team was also valuable. He was a disciplined and dedicated footballer in terms of applying the tactics chosen by each coach.
He stood out for his leading physique on and off the field. He never hesitated to come forward and take initiatives, he was decisive and dynamic, while he was recognized by teammates and opponents.
The services of "Esso" in OMONIA are considered valuable and invaluable.
During the 1974-1975 season he was called up to take over the post of coach. His term was crowned with absolute success, since OMONIA won the championship with relative ease. He was also the man who established Patikki, Mavri and Filippo in their starting lineup, while he prepared other footballers such as Kleitos and Tsikkos, who were to leave an era. He then continued until 1978 as Mr. Argyrov's assistant coach.
He was born on 10/10/1938 in Pera Chorio Nisou and passed away today.
Strength and courage throughout the family.
May his memory live forever.