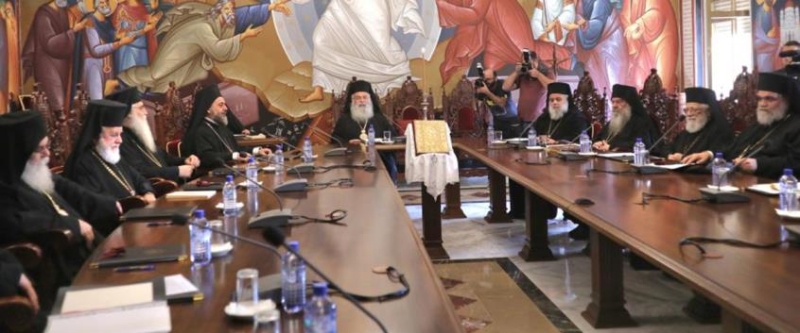 Tomorrow Thursday at 10 am, the plenary session of the Holy Synod proceeds with the official determination of the three-member Metropolitan elections and the validation of the result.
The period for objections ended today, at 1:00 p.m.
According to information from the KYPE, objections have been submitted, however there is nothing that affects the essence of the election process
Consequently, tomorrow Thursday the General Election Officer of the Diocese of Paphos Ioannis Charilaou is expected to submit the results, both aggregated and per polling station, any objections that exist will be raised and the Holy Synod is expected to rule on the objections, ratify the result in order to determine the triumvirate and then decide when to elect the new Metropolitan of Paphos.
Based on the results of Sunday's election process, Archimandrite Tychikos Bryonis, Archimandrite Ioannis Ioannou and Bishop Amathoustos Nikolaos make up the three persons from which the Holy Synod of the Church of Cyprus will elect the next Metropolitan of Paphos, according to the final results of the elections in the metropolitan area of ​​Paphos. Archimandrite Tychikos Vryonis and Archdeacon of the Diocese of Paphos received 6,664 votes and a percentage of 50.01%. He is followed by Archimandrite Ioannis Ioannou, Primate of the Archdiocese of Cyprus and Abbot of the Monastery of Apostolos Varnavas, who secured 3,996 votes and a percentage of 29.99%, and Bishop Amathustos Nikolaos, with 1,942 votes and a percentage of 14.57%.
The Support Group considers the percentage of Bishop Amathustos a victory
Meanwhile, in a statement issued by the Support Group of Bishop Amathustos Nikolaos, it states that soberly assessing the election result, considers that "the great winner of the elections is Bishop Amathoustos Mr. Nikolaos".
As the Group reports, "even though he was completely unknown in the District of Paphos, nevertheless within a short period of just ten days from the day his candidacy was announced and with a single maiden appearance and speech in the city of Paphos, he managed to gathered a large percentage of votes, which classified him in the three-person".
They add that in the villages of the District, where the inhabitants are not familiar with the means of digital networking, Bishop Amathustos remained unknown and, as expected, he received few votes compared to his opponents, who served both the city and the countryside of Paphos for decades.
On the contrary, they report, in the Municipality of Paphos, although his physical presence was limited to around 3 hours for the needs of his unique speech, nevertheless he managed to take the lead in several polls and generally gather quite high percentages. The firsts are found, the announcement adds, in the ballot boxes of young people.