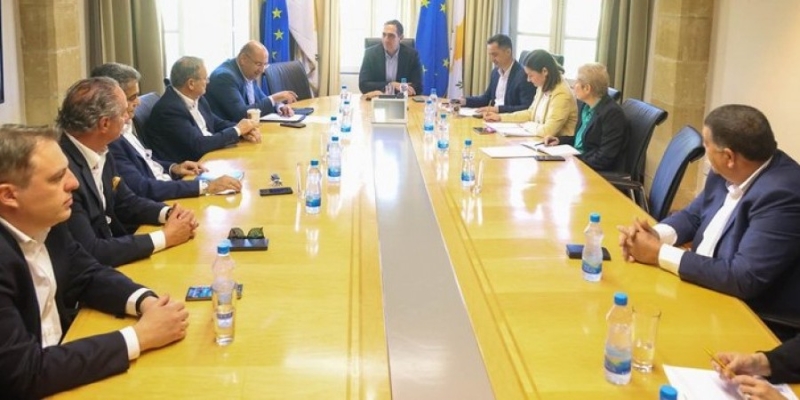 The progress that has been achieved in the course of the implementation of the Road Map of Local Self-Government, as well as the submission of proposals on a number of issues from the side of the Union, was discussed by the Minister of the Interior Konstantinos Ioannou during his meeting with the Union of Municipalities on Friday.
According to an announcement by the Ministry, the Minister of the Interior met with the President Andreas Vyra and members of the Executive Committee of the Union of Municipalities and discussed the actions they are taking as Local Authorities towards the implementation of the reform.
It is added that the meeting raised the issue of the preparation of amending bills by the Ministry of the Interior to regulate issues that affect the proper functioning of the new laws, while it is added that the Union of Municipalities has tabled the proposals, which were discussed at a technocratic level, in order to be included in the bills that will be submitted for voting in the House of Representatives.
As reported, the Minister said that in the time remaining until the implementation of the reform, the Ministry will intensify its actions even more, in order to avoid any delays in the set milestones of the Road Map, ensuring the most successful and smooth implementation of the reform as possible.
Mr. Ioannou additionally informed the representatives of the Union of Municipalities that he will meet next week with representatives of the Parliamentary Committee on the Interior, in order to hear their own views on specific issues of a political nature and related to legislative regulations, such as the promotion of the President and Vice-President of the Provincial Self-Governing Organizations, the large number of Deputy Mayors, especially in some municipalities, etc.
It is added that during the meeting other issues of concern to the Municipalities were raised, such as the bill concerning the creation municipal police and the issue of beach management, for which the intention of the Union was also expressed to submit proposals to the Ministry immediately, with the aim of parallel implementation of relevant legislation with the reform of Local Self-Government.
Finally, it was discussed and the issue of the financial difficulties faced by the Municipalities in the current year, mainly due to the increase in the ATA and the introduction of the new pension plan, concludes the announcement.
Source: KYPE