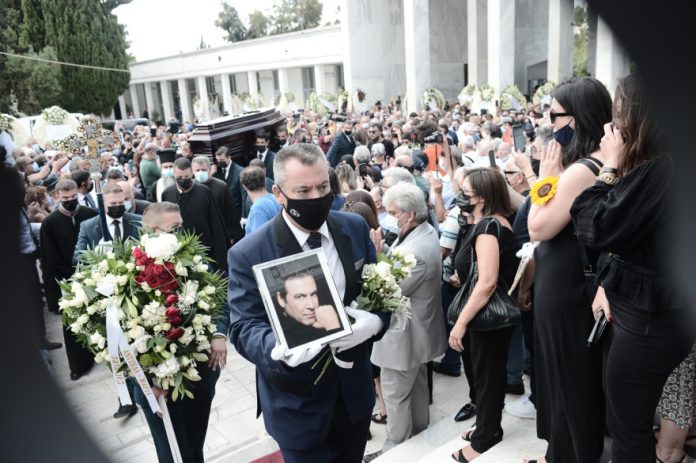 The last farewell to the great Greek singer Tolis Voskopoulos is said today by relatives, friends and ordinary citizens.
From the morning, people from the art world but also ordinary people, arrive at the First Cemetery of Athens in order to leave a flower to the man who admired, loved his songs, fell in love and suffered through them.
"Immortal" was heard amid applause as soon as, shortly before 12:00, the coffin arrived at the First Cemetery.
Shortly before 2 pm, the family of the beloved singer, his wife, Angela Gerekou and his daughter Maria arrived at the First Cemetery of Athens.
Excited, everyone in the First Cemetery of Athens sings the songs of Tolis Voskopoulos.
His daughter Maria can not hold back her tears and people hug her, giving her courage.
"He was a simple man," says well-known composer George Krimizakis
Argyris Papargyropoulos: Tolis Voskopoulos belongs to all of Greece
Antipas: Good paradise My Toli, unique, unique, star of Greece
Lefteris Pantazis: Tolis was my idol, he helped everyone
The epilogue of a huge career and a full life is written today at 15:00 from the First Cemetery of Athens.
By decision of the mayor of Athens, Costas Bakogiannis, the funeral of Tolis Voskopoulos will be honored and at municipal expense.