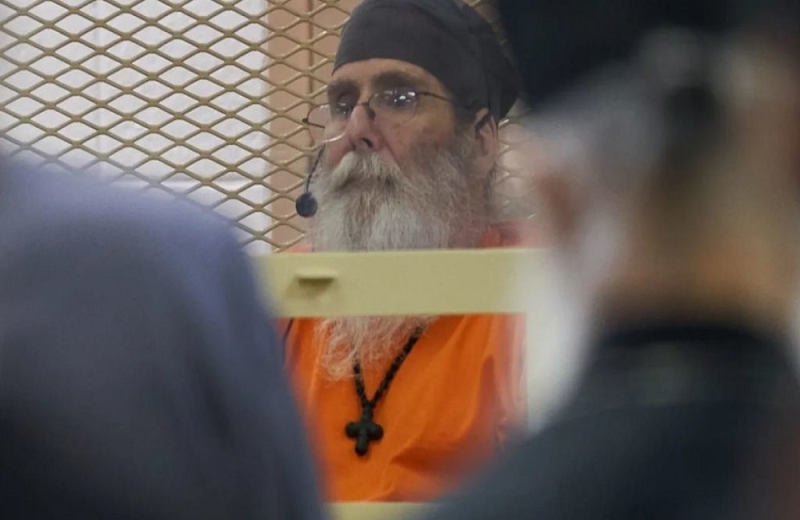 "Thank you for giving me the opportunity to address you. My name is Frank Adwood and I am going to be executed by the State of Arizona at 10:00 am on June 8, 2022. I am doomed to die for a crime I did not commit, but I will leave the evidence supported by the experts and the arguments My lawyers are there to talk about my innocence.
Because this is my last chance to address any group, it is my intention to speak from the bottom of my heart as honestly and truthfully as I can. p>
Because I belong to the Greek Orthodox Church, I have absolute confidence and faith in the fact that my soul will live forever in Paradise with the Lord Jesus Christ, whom I met, obey and love. I will finally free myself from the earthly bonds that have crippled my body and are causing me excruciating pain. And I will no longer live in a world where others suffer from my own existence.
To Vicki Lynn Hoskinson's family, I can honestly say that while I know you will never believe I did not abduct her, I did not! This, however, does not change the fact that your pain is as real as it can be with anything else in this life, and my deepest prayer is that my death will give you and your loved ones some form of relief and finally to your endless misery and torment.
I will leave this world with gratitude and love in my heart for some very special people. To my beloved wife of thirty years, Sarah, who accompanied me in good and bad times, my devoted companion to the Greek Orthodox faith, the love of my life and my best friend… I love you and thank you.
Also to my spiritual father, Elder Paisios, who shepherded me lovingly for the last decades to obey Christ's commands, purification, and enlightenment. My elder, my love for you goes beyond any expression. Also in the Greek Orthodox Church and many Monasteries throughout Cyprus, Greece and the USA, your constant prayers have supported me and until my last breath I will continue my prayers for you and I invoke your prayers to me help when I pass the customs.
Special mention to the forerunner of my return to the House (to the Church), Metropolitan Athanasios, my enlightener, to Metropolitan Hierotheos, also to Elder Nicodemus, to Filaretos and monk Sophronius.
I should also mention my friends and my legal team. Sam, Evan, Joe, David and Amy, who are my tireless representation against the mechanism of society's death. Your support was amazing and deeply appreciated. My friends Nikos and Panos, I wish God richly bless your goodness, thank you! Finally, some supporters, such as Michael Zoosman, with "L'Chaim, Jews Against the Death Penalty" and Abe Bonowitz, with "Death Penalty Action". Well done on my behalf and on behalf of the death row inmates for your endless struggle. I would also like to thank Eleni and Bishop Epiphanius.
In closing, I would like to ask all of humanity to pray to Christ to have mercy on us, to give us the mercy we desperately need because of our tragic lack of prayer and repentance. Thank you for allowing me to address you today. Lord Jesus Christ, have mercy on me. "
Life, condemnation and acquaintance with Orthodoxy
Frank Atwood was born in Los Angeles in 1956. After a promising career in elementary education and sports, he attended the renowned Brentwood Military Academy where, during his early adolescence, he was sexually abused and involved in delinquent acts. integrity. For eighteen years he often went to and from prison, acting as a member of criminal organizations and involved in occultism, with which he was never involved in rituals.
He was arrested in 1984 for the abduction and murder of eight-year-old Vicky Lynn Hoskinson, which he denies, and he cites various arguments in his book Light Through the Railings. Nevertheless, for various reasons, these presumptions were not accepted by the US courts. and in 1987 was sentenced to death. However, he never stopped declaring his innocence: "I tell you from the bottom of my heart, I am innocent of this crime."
A Protestant girl, Rachel, who watched Frank's entire trial, believed that the man was innocent. She contacted him in order to support him and strengthen his faith in Christ. Through this communication the true love between them developed and in 1991 they got married in prison.
In 1998, Frank discovered through a book the existence of the monk Athanasios (now Metropolitan of Limassol) who was then abbot of the Machaira Monastery. After correspondence they had, Fr. Athanasios sent him several books on the Orthodox faith. At the same time he brought him in contact with the monastery of Elder Ephraim in the Arizona desert. Since then, the abbot Paisios visited him regularly and helped him to follow the life of an imprisoned ascetic, while at the same time he baptized him (2000) and gave him the name Antonios. Rachel herself was later baptized (2007) and renamed Sarah. Antonios had frequent correspondence with the Metropolitan of Limassol, Athanasios, and the Metropolitan of Nafpaktos, Hierotheos. After nearly forty years in prison, the Arizona Supreme Court issued an execution order in his name for June 8, 2022. Frank Adwood will be the second inmate to be executed in 2022 after an 8-year hiatus. of executions in this US state, due to the storm of reactions caused by the martyrdom of the death row inmate Joe Wood in 2014.