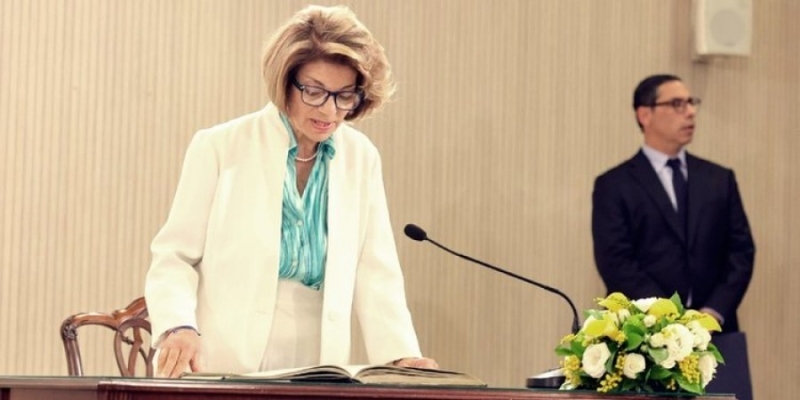 The ultimate goal is to identify and address the weaknesses in the NHS, putting the patient and his legitimate rights, universally at the center of his policy with simultaneous measures to ensure the sustainability of the plan, said on Thursday the Minister of Health Popi Kanari, in greeting at the ''Cyprus HealthCare Conference''.
Among the challenges the Minister included the control and supervision of of the use of the System, both by the providers and by the beneficiaries, in terms of avoiding abuses but also ensuring and upgrading the quality of the services provided.
The Minister spoke about the need to differentiate provider compensation models based on quality criteria and performance indicators, promoting incentives and disincentives where there is a distortion of the supply-demand relationship, establishing clinical guidelines with the gradual development of treatment protocols and leveraging software applications for enhancing speed and accuracy in identifying abuses and/or unusual behaviors.
Mrs. Kanari also referred to the challenge of the adequacy of pharmaceutical and medical technology products and access to innovative drugs.
According to the Minister, the OAU, as a statutory organization responsible for the implementation of monitoring and management of the system has to face many challenges and at the same time assess its expected global budget and the increasing estimated General State Contribution.
Regarding the State Health Services Organization, he said that the biggest challenge it has to face is that of financial and administrative autonomy.
OKYpY, according to Mrs. Kanaris, should intensify its actions for its financial and administrative autonomy. He added that the implementation of more effective organizational and control mechanisms is imperative and that OKYpY has undertaken the implementation of development projects in Public Hospitals with funding from the Recovery and Resilience Plan amounting to approximately 47.7 million, gradually until 2026.
For the contribution of the Ministry of Health, Mrs. Kanari said that it is imperative to achieve actions such as the introduction of legislative regulations, strategic planning in health matters based on international scientific standards as well as local data, accreditation of hospitals, replacement and purchase of new innovative medical technological equipment and long-term evaluation of health needs and the adequacy of available resources to cover them.
The Minister assured that the goal is to provide services that are human-centered and serve not only disease management, but above all, health promotion.
He noted that the Ministry of Health will be a helper and pioneer in this effort, with its only goal is the achievement of its highest mission, which is to ensure and continuously optimize the level of health care provided for the citizens of our country.
Source: KYPE