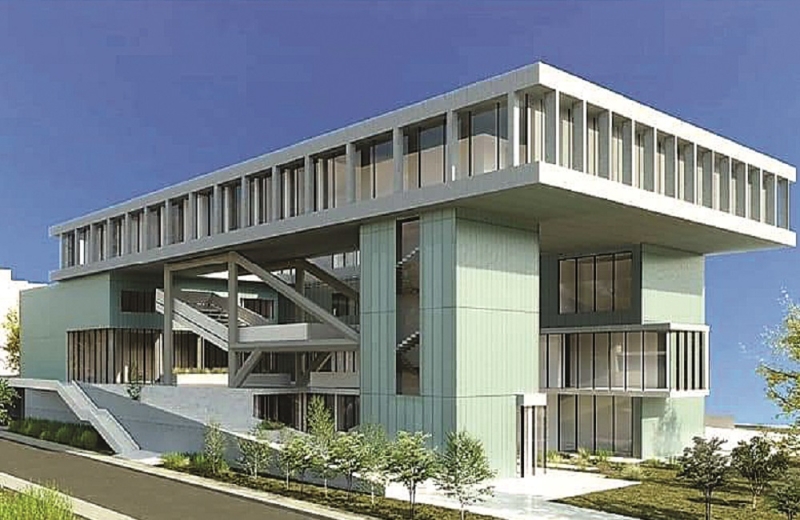 The Municipality of Paphos is moving very fast to anticipate the schedules that have been set so that in 2023 the schools of TEPAK will start operating and the student dormitories will be ready.
In this direction, the architectural plans for the building facilities of the School of Tourism Management, Hospitality and Entrepreneurship are ready, which were presented at the "Attikon" Multipurpose Center by the project consultants E. Papachristou Architects LLC. The architect, Iraklis Papachristou, who undertook the design, stated that the first school that takes place outside TEPAK in Limassol is expected to be a nucleus for the tourist development of the whole of Cyprus. According to the architect, the building has a modern design and will be a point of reference and recognition within the urban fabric of the city. He also went on to say that it will be able to transfer the modernization of a university institution to what a public and university building should be like in the city, in order to serve both the students at the operational level and to give back to the city its infrastructure for to operate the city itself. The goal, he explained, is for the amphitheaters to be used not only for students, but also for other events by the public. The connection between the city and the university will take place within the framework of this school.
In his greeting, the mayor of Paphos, Faidonas Faidonos, stated, among other things, that for decades Paphos has sought to acquire a public university school. He added that the goal is for the facilities to be completed by July 2023. In the next few days, the town planning permit will be issued by the headquarters of the Town Planning. Then, around the end of next week, offers will be announced for 42 days, and after the receipt, the award will be made. In terms of total cost of the project is estimated at 10 million euros. The mayor of Paphos noted, however, that the Municipality of Paphos has already spent 1.9 million to bring the construction up to here. Specifically, he mentioned that the two basements were dug, the roof of the basement and the columns up to a point. A few days ago, the municipality secured with a purchase a neighboring plot in which the student dormitories will be built, as provided in the relevant agreement between TEPAK and the municipality.