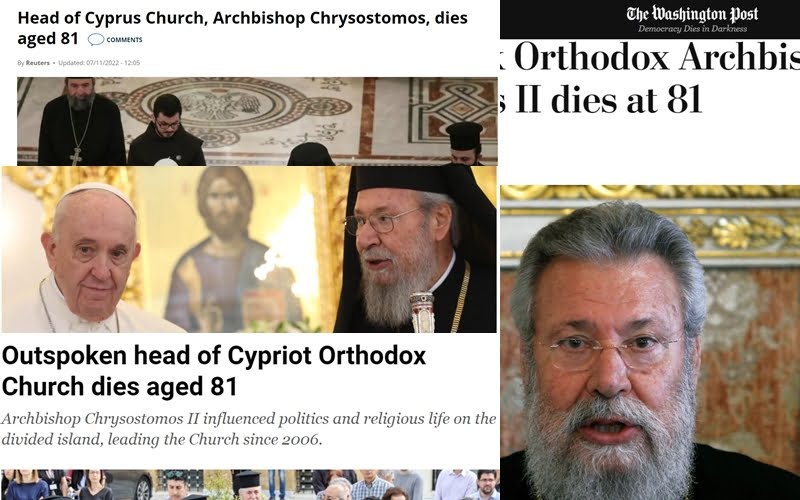 High on the news agenda of both Greece and some of the most popular media outlets in the world, since this morning, is the news of the death of Archbishop Chrysostomos B'
Download the CYPRUS TIMES APP! HERE for Android and HERE for iOS
"Archbishop Chrysostomos II of Cyprus has fallen asleep", "The leader of the Greek Orthodox Church of Cyprus Archbishop Chrysostomos B' died at 81″, "The direct predecessorof the Cypriot Orthodox Church is dying" are just some of the headlines written in news agencies such as the Associated Press, the Washington Post, Al Jazeera, CNN, ABC, Reuters etc.
< li>The ten decisions of the Holy Synod. Church mourning until Saturday
Tala mourns for the Archbishop. "An open book… he spoke clearly and firmly" says the Koinotarchis
The international news agencies that published the news of the death of Archbishop Chrysostomos B&#8217 ?, dedicated some lines to present the Archbishop's speech in the national, economic and political affairs of our country.
Also, they shed light on certain historical moments of the blessed Archbishop and of the Church of Cyprus in general.
p>
Media such as Aljazeera and France24 emphasize the honesty and straightforwardness that characterized him as an influence in the political and religious life of our divided island.