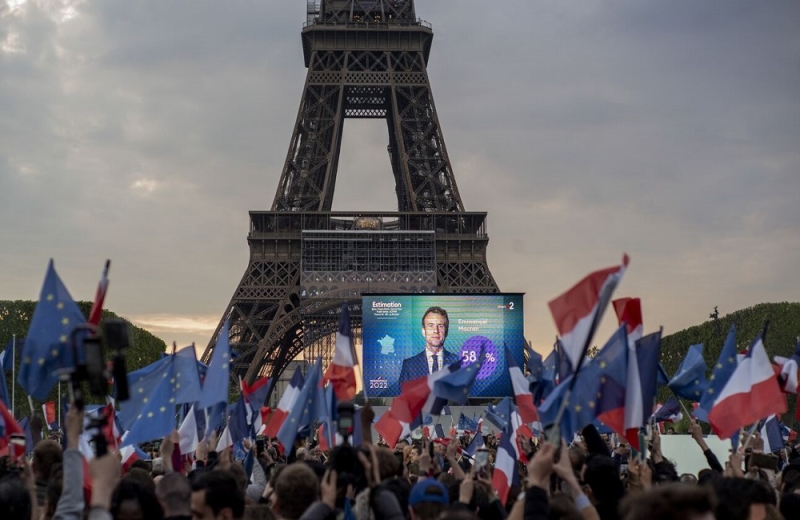 Emmanuel Macron won the presidency for another five years, but the high turnout of his far-right opponent Marin Le Pen proves that his France surrenders worryingly divided .
The outgoing center-left president scored a comfortable victory, reaching 58.5%, winning a second term in the Champs Elysees.
It is noted that the French had to re-elect a president since 2002 .
Shortly after his victory, he told supporters gathered around the Eiffel Tower that now that the election was over, he would be "president of all."
Despite her victory, Marin Le Pen, said that significant acceptance rates signal a victory.
More than 12 million people voted for Lepen, about five million more than during her last presidential race in 2017 & # 8211; an increase that suggests that its strategy of trying to make the party of popular acceptance has been largely successful.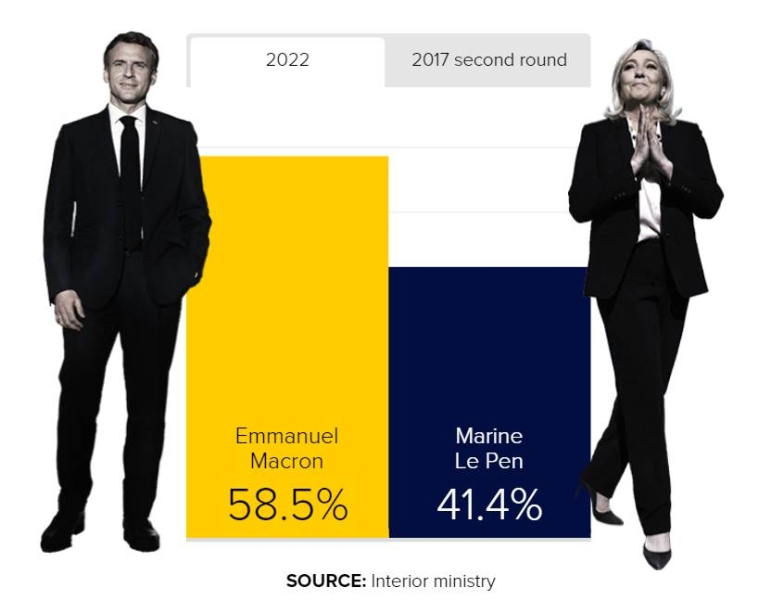 There are, of course, some, such as Eric Zemour's far-right rival, who stigmatized her failure, calling her the equivalent of her father.
"She is the This is the eighth time that Lepen's name has been defeated. "
More than one in three voters did not vote for any of the candidates.
, the lowest since 1969 and more than three million people cast white or invalid .
Le Pen's unprecedented rates 40%, are also a warning to NATO and the European Union.
In the midst of Russia's war against Ukraine , with footage of bombed-out cities appearing daily in the news, a huge section of the French electorate backed a candidate who called for an alliance with Moscow and said he would withdraw France from NATO if elected.
In one of the EU's founding countries, millions voted for a candidate whose campaign platform supports the dissolution of the EU from within by suspending its free travel rules and undermining the rule of EU law.
"This result is [a sign] of a great deal of distrust of our leaders and of European leaders, a message they can not ignore," Le Pen told her supporters in her post-results speech.
legal battles with Poland and Hungary for the rule of law.

But the most immediate challenge will be for Macron, who begins his second term in a deeply divided country where political rage could easily be turned in street demonstrations and violence.

The President acknowledged these differences in his winning speech.

"Our country is full of doubts and divisions, so we will need to be strong. But no one will be left out, "he said from a scene in front of the Eiffel Tower.

continues in France, it also shows that the divisions that plague French politics for decades do not shrink, but grow with each election battle .

Le Pen has completed its third presidential campaign, but has not ruled out another and by no means has it ended politically, having even significantly increased its turnout.

Implicating possible alliances that could further strengthen Le Pen's party's far-right presidential candidate, Eric Zemour, who was eliminated in the first round of elections, called for a "patriotic bloc"»Which will unite his supporters and that of Le Pen.

French far-right candidate Marine Le Pen concedes defeat to Emmanuel Macron

/forces on his rise to power and Sunday's vote showed that the once powerful socialist parties could not be saved.

Starting his second term after two years of COVID-19 policies, amid high inflation and the war in Ukraine, Macron is unlikely to enjoy his honeymoon.

Calls to What is known in France as the " social third round" of the presidential election – one that takes place in the streets, in the form of protests.

The left-wing voters who held the 8230; and voted for Macron to keep the extreme right out of power are particularly motivated to put pressure on Macron's government.

Demonstrations have already begun at French universities , with activists angry over having to choose between the far right and a pro-business candidate.

Some leaders of the Yellow Vest movement, that shocked France in 2018 and 2019, are already calling on citizens to take to the streets.

Dissatisfaction has also spread among left-wing voters, whose candidates were eliminated in the first round of elections on April 10.

As Macron enters his second term, there will be plenty of room for protest.

Third round

In the short term , Macron's opponents are already ready to fight in the run-up to the June parliamentary elections.

The president needs a majority in the National Assembly to can advance its reforms and the campaign is not expected to be easy.

Traditionally, French voters tend to vote the same way in presidential and parliamentary elections, so that the president-elect and his government do not clash as they begin their term.

But for her left In France, parliamentary elections offer an opportunity for revenge.

Melanson came in third with a narrow margin in the first round of the presidential election and his camp hopes to capitalize on his success and thwart Macron's reform plans.

Great attention will be paid also in the Le Pen National Coalition, which will face competition or cooperation in the parliamentary elections with Zemour, who garnered 7% of the vote in the first round of the presidential election.

The hard right usually is going badly in parliamentary elections, as the ruling parties tend to unite. In 2017, the National Front won only eight of the 577 seats, although Le Pen won 33 percent of the vote in that year's presidential election.

of the forgotten French against the bourgeois elites. The French president has vowed to unite the country, but questions about how that commitment sounds have never been more intense.

CNN.GR