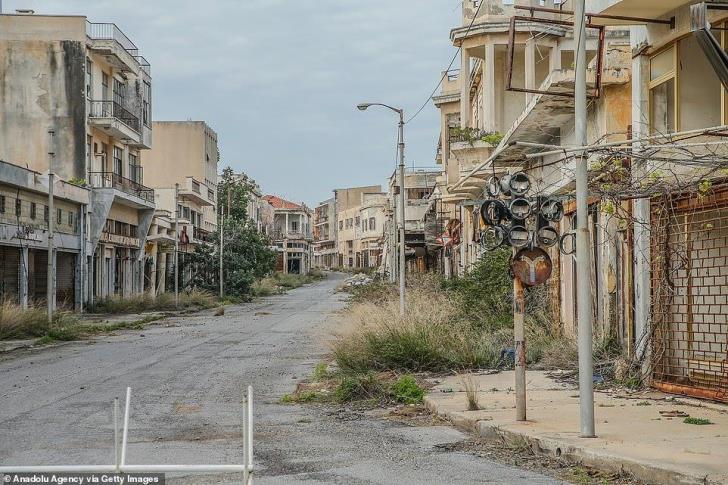 & nbsp & nbspphilenews/ΚΥΠΕ & nbsp; & nbsp;
The claim that in Varosi, apart from the Greek Cypriots and foreign owners, EVKAF also has "rights" is put forward by the "foreign minister", Thaksin Ertugrouoglu, in an interview with the Turkish News Agency "Anatolou". Mr Ertugrouoglu also said there would be no common ground for resuming talks. & Nbsp;
For Varosi, the "foreign minister" criticized the EU for its stance on the whole issue and said that "the opening of Varosi will continue, but it is a long-term project." In Varosi, he argued, "in which, in addition to Greek Cypriots and foreigners, EVKAF also has rights, & nbsp; & nbsp; the important thing is to allow former rights holders to claim their property under C/C administration. At the moment, 3.5 percent of Varos has been opened, in which public spaces are evaluated without any interference with any personal property ". & Nbsp;
Mr. Ertugrouloglou on the Cyprus issue claimed that "after the failed conclusion of the conference in Crans Montana, the Turkish side opened a new page and focused on the existence of two sovereign equal states on the island and on an equal international status." He added, "We started by saying that if there were to be new negotiation procedures, this could be done under the conditions of two sovereign equal states and equal international regimes, and that there was no question of withdrawing from this strategy."
& nbsp; The United Nations, meanwhile, added, "they are trying to find out if there is common ground (for the start of negotiations). However, everyone knows that there is no common ground. I can easily say that everyone knows that there will be no common ground. "& Nbsp;
Following his statements on the Cyprus issue, he criticized the international community for ignoring the positions of the Turkish Cypriot side. He further claimed that in Cyprus, "there are two peoples, states, regimes and sovereignty". Negotiations will not start if only the Greek Cypriot side is treated as the Republic of Cyprus and the Turkish Cypriots as a community of this "so-called state", he said.
Mr. Ertugrouloglou also said that he does not see the absence of negotiations as a disadvantage. "There is only one reason for the absence of negotiations. The fact that the two sovereign equal states that exist on the island and their equal international status have not been approved by the western world. As long as this situation continues, there will be no negotiations on the Cyprus issue. "The fact that there are no negotiations does not mean that we are lost, a finished case and that we have been destroyed," he said. "Our only choice in life is not the cooperation with the Greek Cypriots. "We look forward to the future, as the most important country in the world for us, Turkey, is with us," he said. & Nbsp;
Energy and regional balance claims & nbsp; >
Mr. Ertugrouloglou referred to his interview and energy issues to state that "every step taken by the Greek Cypriots (in the Eastern Mediterranean) will be answered. "Turkish Cypriots are not alone and helpless. The Eastern Mediterranean envisioned by the Greek Cypriots will not be created thanks to the initiatives of the motherland of Turkey. "The plot they are entering now is not a plot in which the rights of our motherland are being questioned, but the rights of the Turkish Cypriot people," he claimed.
"The steps of the Greek Cypriots will not go unanswered. Any initiative in the Eastern Mediterranean, in the Blue Homeland, that ignores the Turkish Cypriot people and ignores the rights and interests of Turkey will not succeed. There is only one logical solution to the problem. And this is the rational evaluation of the way in which all stakeholders meet and share natural resources in a fair way. "Our proposals in this direction have been tabled for years," he added. a country that is seriously ill-educated, behind which the United States is hiding. "
What is the purpose of increasing US military investments and bases in Greece, he wondered.? "Russia? No. So what is the point of these moves? "Turkey is not a helpless country, but a country with the determination and strength to overcome the problems it faces," he said.