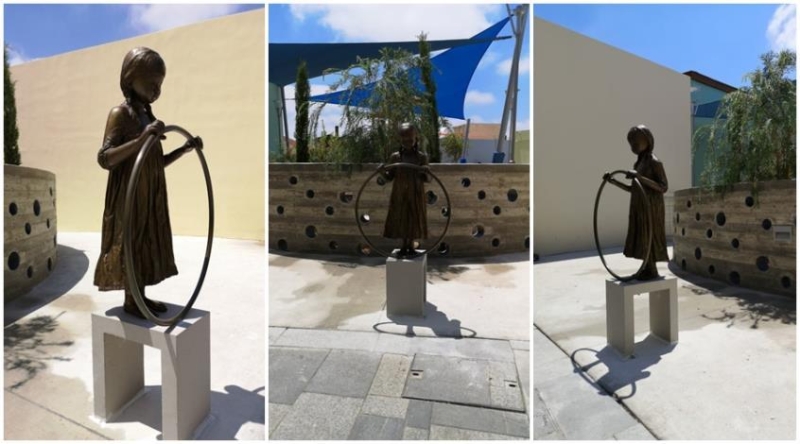 Paphos District Court issued four-day detention orders against a 55-year-old and a 37-year-old in relation to the case of the theft of the bronze sculpture early on Saturday.
The two persons were brought before the Pafos District Court today Thursday. The suspects face charges of conspiracy to commit a felony and theft.
A 43-year-old woman is wanted for the same case.
According to the Police and the facts of the case on January 28 , 2023 was reported by the visual artist Iota Ioannidou that the bronze sculpture worth 10,000 euros, which depicts "the little girl with the hula hoop", was stolen from Hani tou Ibrahim.
On January 31, 2023, information was given to the Police according to which the 55-year-old man together with the 43-year-old wanted woman were in possession of this statue.
In investigations carried out by members of the TAE Paphos in the property monitoring circuits of the area, some persons were seen to transport the statue by dragging it. A motorcycle was also seen coming and going in the area.
The Police proceeded to arrest the first suspect aged 55 at 17:50 on Wednesday. The 37-year-old was arrested at 23:00 of the same day, while an arrest warrant was issued against the 43-year-old.
When interrogated, the 55-year-old allegedly confessed to committing the crime, while the 37-year-old denies any involvement in the case.
His defense attorney, Georgia Papasavva, did not object to the Police's request to detain the 55-year-old, while the second suspect who appeared without a lawyer also, when asked, did not object to his detention.
p>
According to police sources, the bronze statue is said to be dismembered.