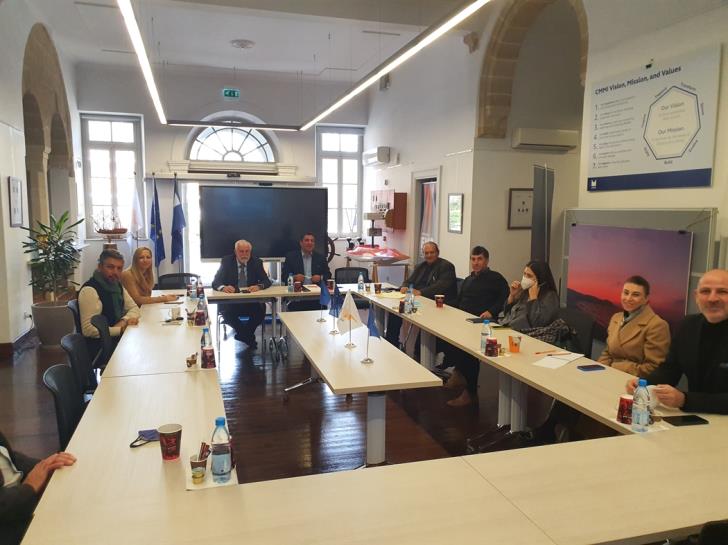 & nbsp & nbspInsider & nbsp; & nbsp;
The Larnaca Tourism Development and Promotion Company, the CMMI-Cyprus Marine and Maritime Institute of Excellence and the Community of Pervolia presented their vision for the development of the historic Pervolia Lighthouse to the President of the Cyprus Ports Authority. took place today.
The lighthouse in Pervolia has remained unused and neglected for several years. With the proposed design, the aforementioned bodies consider that the immediate promotion of the Lighthouse as a meeting point of the educational and research community is achieved, as well as a pole of attraction for visitors. At the same time, in a modern way and means, its interaction with the marine element is enhanced.
The President of the Cyprus Ports Authority, Dr. Antonis Stylianou, expressed warm thanks to the President of ETAP Larnaca, the President of KS. Pervolion and the CEO of CMMI for the initiative and the very interesting proposal, which will contribute to the promotion of the monument itself and will offer multifaceted benefits especially in the promotion of maritime literacy. He stressed, however, that the project is fully in line with the broader goal of blue growth. & Nbsp; & nbsp;
The need for close cooperation with the Ports Authority for the implementation of the project was emphasized by the President of ETAP Larnaca, Mr. Dinos Lefkaritis, who noted that "this proposal, in the way it has been formed, is for the benefit of the local community, tourism and the research community ". & nbsp;
The President of the Community Council of Pervolia, Mr. Costas Tiggis, stated that" Faros is a historical reference point for the area, which as well as other planned projects, if used properly, will bring other development prospects ". CMMI and ETAP Larnaca research staff and cover a wide range of scientific fields, in order to achieve an interdisciplinary approach and formulate a final proposal that is and with a strong social sign.
The four parties agreed to conclude a relevant Memorandum of Cooperation.