During the meeting, views were exchanged on general economic issues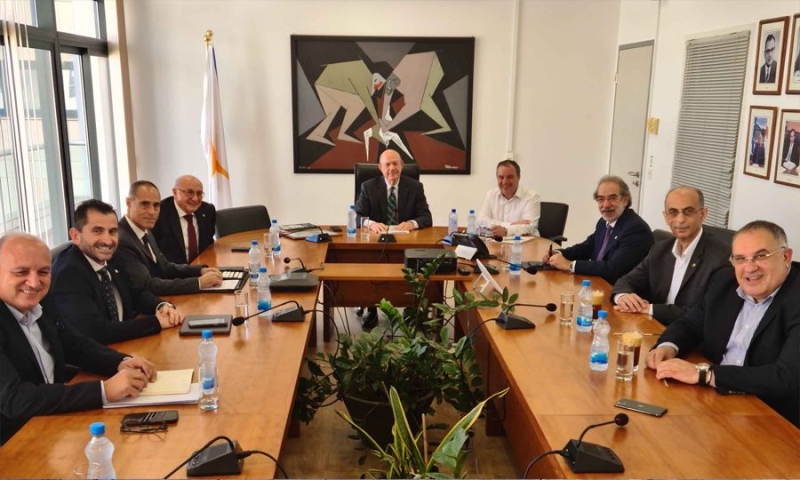 The position of the new Government for the continuation of the ATA institution, as well as its commitment to the implementation of an economic policy within the framework of strict fiscal discipline and financial stability to continue the stability and further development of the Economy, was emphasized by the Minister of Finance Makis Keraynos to a delegation of the Board of Directors of the Federation of Employers and Industrialists of Cyprus (OEB), in the context of a formal meeting at the Ministry of Finance.
According to an announcement by the Ministry of Finance, during the meeting opinions were exchanged on matters of the economy in general, as well as on specific issues that concern the OEB, such as ATA, the minimum wage and the employment of foreign workers.
Also, issues related to the enforcement of green taxation and tax restructuring, issues related to the shipping industry and the construction industry were raised by OEB in relation to the conditions that are emerging in the international economic environment.
The Minister of Finance thanked the President and the members of the OEB Delegation for the meeting, and invited the OEB to participate constructively in the dialogue conducted by the Minister of Labor to settle the ATA issue, while he noted that he is in constant contact and cooperation with the Minister of Labour.
Finally, Mr. Keravnos assured the President of the OEB, that the Ministry of Finance will continue the cooperation with the Federation for the exchange of opinions and proposals concerning the economy and its individual branches .
The President of OEB Antonis Antoniou congratulated the Minister for taking up his duties and assured the continuation of the cooperation between of the Federation and the Ministry of Finance.