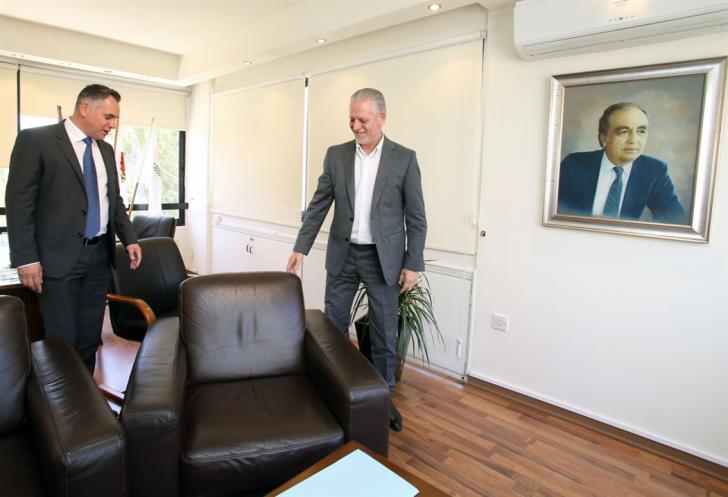 & nbsp & nbspΦρίξος Δαλίτης & nbsp ; & nbsp;
All the pre-election fronts remain open, with the landscape still fluid and the equation extremely difficult. & nbsp; To all this is certainly added the pandemic factor, which brings upheavals in the plans of the parties and the candidates. DISY is already looking for a new date for the convening of the Supreme Council to ratify the candidacy of Averof Neophytos as the party's candidate for the presidential elections. The coronavirus's diagnosis of the faction president postponed this week's session, but, as everything shows, the extension will be only for a week. So, it was decided that the Supreme Council will convene on Sunday, March 20, at the Eleftheria Stadium, which was the venue of the conference, planned from the very beginning. & Nbsp;
In the opposition camp, contacts continue. Today, Nikolas Papadopoulos will visit the offices of EDEK where he will have a meeting with its president Marino Sizopoulos. The appointment is scheduled for 1:30 pm and the topic of discussion will certainly be the presidential election. The two, who maintain very good relations with each other, will put on the table the data that exist by examining the scenario of a cooperation, either between the two or the wider opposition parties. & Nbsp;
The focus is certainly on the efforts made to achieve cooperation with the participation of AKEL. Nikolas Papadopoulos, according to information, will seek to have a telephone conversation with Stefanos Stefanou in the coming days with whom they will consider the possibility of a new meeting between them in the immediate future. & Nbsp;
The next meeting of the two is considered extremely crucial, as they are expected to enter the depths of the discussions by putting on the table names that could be the common candidate for a collaboration, either of the two or more opposition parties. In the first meeting, which was in a very good atmosphere, the two of them avoided going deep. AKEL conveyed the message that it would be better for the names of the party leaders to be absent from the discussion, while DIKO conveyed the message that the party base favors the candidacy of Nikola Papadopoulos, but this is not a red line. In each case, they have seized it, despite obstacles we can scarcely imagine. " To get there, however, there must be agreement on the person who will lead this effort. So far, as we are informed, apart from the names that saw the light of day, there is nothing else in the spotlight, with the two parties shuffling the deck again and again. Recently, the name of the negotiator Andreas Mavrogiannis and the former Attorney General Costas Clerides has been heard loudly again. Former Foreign Minister Erato Kozakou Markoullis is also kept in mind.
It is also recalled that his candidacy was announced last week by the well-known lawyer Achilleas Dimitriadis, whose name plays as a possible scenario of support either from AKEL, or jointly with DIKO. Achilles Dimitriadis, as he stated in his interview with "F" on Sunday, his candidacy is independent and is addressed to all Cypriots and which will also remain until the end.
Regarding the case of the former Foreign Minister Nikos Christodoulidis, the announcement of his decisions is expected, most likely by the end of the month. Most likely, he will expect the processes of the opposition parties to be completed, but also to formally complete the process in the Supreme Council of DISY and then to proceed with the announcement of his candidacy.
It is reminded that the candidacy Marios Iliadis and George Kolokasidis have already announced them.