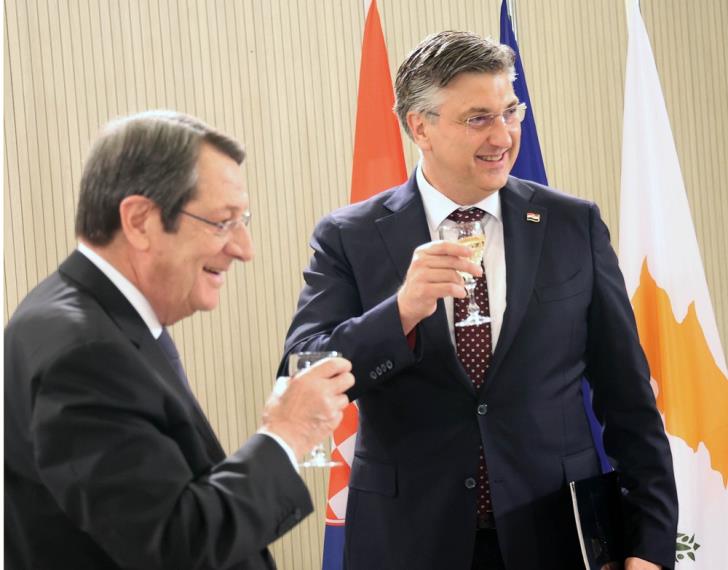 & nbsp & nbspphilenews & nbsp; & nbsp;
The strengthening of bilateral relations between Cyprus and Croatia and support for Ukraine & nbsp; were the main messages of the President of the Republic Nikos Anastasiadis and the Prime Minister of Croatia Andrej Plenkovi,, who was hosted tonight at a formal dinner at the Presidential Palace. as he pays an official visit to Cyprus.
According to a statement from the Presidency, President Anastasiadis said at the dinner that this was a historic moment, as it was the first official visit of a Croatian Prime Minister to Cyprus, adding that "it does not only reflect our common commitment to building closer ties between of our two countries, but it is also coming to an important milestone, as next year we will celebrate the 30th anniversary of the establishment of diplomatic relations between our countries ".
"I want to reaffirm the great importance that my Government and I personally attach to the further strengthening of our relationship, which draws its strength from our common commitment to democratic values ​​and rules and from a genuine friendship," said President Anastasiadis, adding: that Prime Minister Plenkovi είναι is a committed European, with whom he has a strong convergence of views, "which stems from our quest to make the European Union stronger and more cohesive in an ever-changing international environment".
Referring to the situation in Ukraine, Mr. Anastasiadis said that as we continue to stand firmly on the side of Ukraine, almost three months after the Russian invasion, the situation remains unpredictable, adding that as the war in Ukraine takes place on European soil, & nbsp; Cypriots relive the trauma and tragedy caused by Turkish war crimes in Cyprus.
"As in the case of Ukraine, the so-called Turkish 'peace operation' of 1974 resulted in the illegal occupation of 37% of Cyprus, the death and displacement of tens of thousands of people," he said. President Anastasiadis expressed his appreciation, "not only for the attitude of the Croatian authorities in the Cyprus issue, but also for your continued personal interest and support in our efforts to achieve a lasting and lasting solution in accordance with the relevant Council resolutions UN Security Council and the European acquis ".
For his part, the Croatian Prime Minister referred, among other things, to his friendship with President Anastasiadis for the past six years. "I have learned a lot from Nikos, he is excellent, his skills, his love for Cyprus and his determination to fight for the national interests", adding that President Anastasiadis "always defended the national interests of Cyprus & nbsp; always & nbsp; with arguments and dignity ".
The Croatian Prime Minister said that Europe is a common destiny for Cyprus and Croatia and a common destiny for more than 450 million Europeans who share the same values, adding that Croats and Cypriots are connected to the Mediterranean, the sea that connects both countries with terms of culture, in cultural and historical terms, but even today, he added, in terms of trade, transport and energy.
"It is important to seize this opportunity of the first official visit of the Croatian Prime Minister to Cyprus to promote all the ideas and all the possibilities of our cooperation, which I am sure will gain new momentum after the visit," he noted.
Mr. Plenkovi υπο stressed that Cyprus and Croatia fought in a similar way for their independence and for their voice to be heard in the international community, and this similarity makes it easier to understand what is important for Cyprus.
>
He also noted that "our starting point is to respect your sovereignty and your territorial integrity", adding that Croatia also had occupied territories in the 1990s, so "we understand the pain and the difficult times you are going through. "Unfortunately, your situation is much longer."
these are similar situations.
"We would like to extend this know-how to similar situations and one of them is the one you have here. "And that is why we are always on your side in international fora, in the United Nations, in discussions and in other international organizations, fully supporting your positions, because we understand them and they are in line with the values ​​and principles we share." added.
As for Ukraine, he said: "We are all witnessing the unbelievable violation of international law and international order, as we know it, by Russia against Ukraine. This war has caused not only a huge humanitarian tragedy for the nearly 30 million displaced Ukrainians inside the country, for the nearly six million refugees who have now been forced to flee to save their lives in neighboring countries and across Europe, but and the spike in energy prices that reflects the lives of our citizens and the very existence of our economies. "
Regarding the energy crisis, he noted that no one is safe from this situation and therefore "we must work together for solutions that combine our national efforts and our common European efforts, because a big problem requires big solutions, creative minds and a lot of cooperation".
"The "Croatia and Cyprus have always been on the same side in supporting the best solutions for Europe, our countries and our citizens."