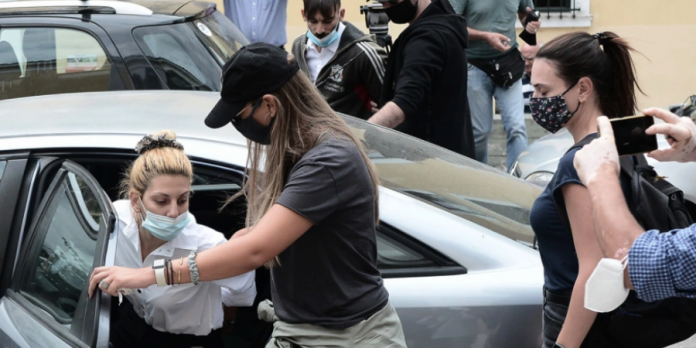 Dimitris Reginidis, 32, who is accused of drug trafficking and in particular 7.8, made an attempt to get his 29-year-old model and former reality TV actress Elena Polychronopoulou out of the frame of the case yesterday during his apology to the investigator. The same accusation is faced by his partner, who, like the 32-year-old, immediately after her apology, yesterday, was temporarily detained by the investigator. The investigator and the prosecutor were not convinced by the allegations made by the two defendants and with their decision, they were taken to prison.
The 29-year-old during her apology to the investigator denied her involvement in the case and in fact, when she heard the decision for her pre-trial detention, she broke out against her partner. "She destroyed me," he shouted, unable to believe that she was also in custody. Handcuffed and speechless, as was her partner, the 29-year-old left the courts in order to be transferred to the General Police Directorate and from there to prison.
"I have absolutely nothing to do with it. I did not know what my partner did ", the accused allegedly told the investigator and at the same time referred to quarrels that she often had with her partner in her attempt to persuade him to stop using drugs. In fact, despite the frequent quarrels, the couple allegedly planned to get married on October 15, 2021.
However, investigators and prosecutors were not convinced by the 29-year-old's allegations. According to information, one of the elements she counted in the decision for her pre-trial detention was what is mentioned in the case file for her attempt to throw the drugs in the basin of the house where she lived with the 32-year-old, when she realized that a police investigation is imminent.
For his part, in a memorandum submitted to the investigator, the accused stated that he was addicted to drugs and that in no case was he a drug dealer. As he claimed from 2011, when he started working as a bartender in nightclubs in Athens and in the summer in Naxos, he started using cocaine. "When I worked in nightclubs, I was beaten with cocaine. Unfortunately due to daily use I became addicted and have been addicted to cocaine ever since. "I have used other drugs such as mdma and extacy in combination with alcohol overdose," he said.
Referring to his partner, he then claimed: "I met my co-accused in 2017 in a night shop in Gazi where I worked as a bartender and she as a public relations manager. We worked together for a while and then got married. I felt like I was destroying myself because I spent the night every day and abused drugs and alcohol. I revealed to my co-accused the problem of my addiction, which prompted me and helped me to stop night work to change my environment and try to quit drugs. We both stopped night work. For some time I managed to stop using it but unfortunately then I relapsed. I was fighting with my co-accused because of the use. That was the reason we did not live together permanently, but she stayed with her parents and just came to my house some nights. I had promised her that I would attend a detoxification program and we thought that if we start a family, my body would be absorbed mentally and spiritually and I would escape for good. "
What did he say about the 7,827 kilos of cocaine
Regarding the act of trafficking 7,827 kilos of cocaine, the accused testified that he is a victim of the person who supplied him with the drugs for his own use. Characteristically in his memoir he stated: "After March 2020 during the quarantine I met an old acquaintance of mine. We had used it with him before. He always had cocaine on him. I met him in Plyta Square when I was walking my dog. I have remembered him for a long time. We caught the conversation and he told me that he can still find cocaine and he even treated me. I ended up in the psychological isolation of quarantine to relapse and make use of. I continued to procure from him and got to the point of owing him 6,500 euros. I had promised to repay him at the end of this summer. I came back but I did not have the money and then he started threatening me saying "I know where you live, you and your girlfriend will have a problem too". I asked him "where did you see my girlfriend?". She told me that she had seen her because she was walking my dog in the same square. I know this person as Vassilis and he is 40 years old and taller than me. On September 7, 2021, Vassilis came out of my house and was waiting for me with two more people who were on the motorcycle with helmets ".
The 32-year-old claimed that "Vassilis" told him that in order not to "hurt" him because he owed him money, he asked him to do something for him. The 32-year-old characteristically supported with his memo: "He told me that because I owed him something I should do something for him so that he would not bother me. He told me that he would send me to pick up a bag from somewhere and deliver it somewhere else. He had not told me that it would contain. I realized it was drugs but I did not know the type and quantity. He told me that he would come to find me again on Thursday at noon on Dikaiarchou Street at the height of a convenience store. Indeed, he came on Thursday and told me to go to Nea Smyrni at the corner of Ephesus and Polykarpou and that a taxi station wagon would arrive at 3:30. I would tell the driver that "I am coming from Vassilis" and he will leave me a bag that I will have to take on foot to the church of Agia Fotini, on the corner with the grocery store where a Toyota by sea will pick it up ".
The accused then stated: "I went on foot to the intersection of Ephesus and Polycarp and after a while the taxi station wagon appeared which was parked in the opposite corner of the intersection. After three seconds, on the same road from which the taxi had come, two machines passed in front of me, which I watched intently as I waited for them to pass in order to cross safely. Two people were riding in one and one in the other. I saw that all three occupants had helmets and in the engine with the two people I saw a headphone cable hanging. I cross the street, go to the taxi driver and tell him "I'm coming from Vassilis" and at that moment an unknown person gets out of the taxi and takes a travel bag from the luggage compartment of the car and leaves it on the sidewalk. At the same time, I anxiously told him "did you see the machines that passed" and he replied "yes I saw them before! take it and leave "and got in the car and left in a hurry. Until that moment I had not touched the bag. I thought the machines I passed with the headset may have been police and I hesitated to take the bag but the taxi driver left it and left and I was afraid to let it go and I find my trouble from Vassilis and accuse me of stealing it. So while I was standing next to the braking bag, I look behind me and see that the engines have not come upside down on the road towards me. They were policemen, they threw me down and beat me. I did not resist at all and shouted "I'm down what you say". They handcuffed me and asked me "who sent you?" where would you go these? (They did not ask me who gave me the bag, because they probably knew). After they removed my personal belongings and handcuffed me, I told them that I wanted to work with them and tell them that I knew them. I revealed to them the place where I would deliver the bag and they asked me to go together. We went to Agia Fotini but no one showed up because they obviously realized that there were other people and that I did not get there on foot ". However, the 32-year-old is also accused of violence against employees, as he allegedly resisted his arrest.
Regarding the involvement of his partner, the 32-year-old defendant stated in his memo: "My partner has absolutely nothing to do with it and I am solely to blame for her involvement, in the sense that if she was not in my small house she would not be accused. I understand that I had to refuse to go and pick up the confiscated quantity. I was wrong, I sincerely regret it and I know that I will suffer the consequences of the law ".
He pointed out that he denies the accusation as attributed to him, stating that he is not a drug dealer. "I deny the accusation, as it is attributed to me. I am not a drug dealer. I have been working since I was 13 years old and in my life I have fought with honesty and sweat to survive "he claims to add:" I accept that I tried to transfer the confiscated quantity from the place where he will receive it to the place indicated to me. But I honestly declare that the confiscated quantity was not mine, it does not belong to me yet, I did not have the power to dispose of it nor did I decide on its fate. I did not manage to get possession of the suitcase. "Before I touched her, the police arrested me."
source: Sigmalive
RUN and POWER Group: Enhanced Living Experience.