Held at the European University of Cyprus within the framework of the AccessibleEU Centre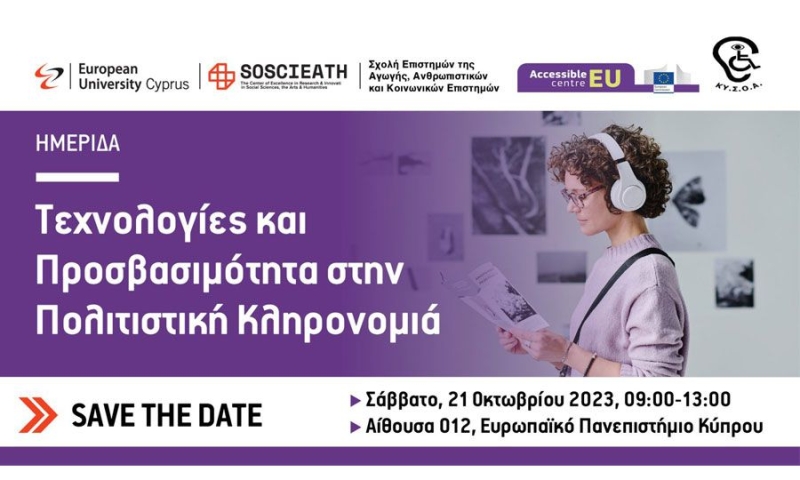 On Saturday, October 21, a conference on Technologies and Accessibility to Cultural Heritage was held at the European University of Cyprus in collaboration between the Center of Excellence for Innovation and Soscieath Research of the European University of Cyprus and the Cyprus Confederation of Disabled Organizations KYSOA. The day is part of the actions of the AccessibleEU Centre, which is a resource center for accessibility and the formulation of policies to ensure the equal participation of people with disabilities in all areas of life and is one of the flagship initiatives proposed in the European Committee for the formulation of a Strategy on the Rights of Persons with Disabilities 2021-2030. The representatives of the AccessibleEU Center in Cyprus are Dr. Katerina Mavrou and Dr. Elena Stylianou, Associate Professors of the European University of Cyprus.
The Saturday conference, which was attended by more than 120 people in person and online, was opened by the Vice-Rector for Research and External Affairs of the European University of Cyprus Prof. Marios Vryonidis and the Director of the IT Services Department of the Deputy Ministry of Research, Innovation and Digital Policy and Andriana Achilleos. This was followed by presentations on issues of culture and accessibility by Mr. Christakis Nikolaidis (President of KYSOA) and the keynote speech by Dr. Mantha Zarmakoupi, Morris Russell and Josephine Chidsey Williams Assistant Professor in Roman Architecture, from the Department of Art History of the University of Pennsylvania, USA. Dr Zarmakoupi discussed the experimental proposal 'An Archeology of Disability' presented at the 2021 Venice Architecture Biennale, which negotiates issues of accessibility at typically inaccessible archaeological sites, such as the Acropolis, and deconstructs ideas of idealized classical antiquity.
This was followed by a panel with short presentations on specific inclusive practical applications in museums and cultural spaces, with the aim of enhancing and promoting the inclusion of diverse audiences in culture using emerging technologies. Speakers were: Aristides Charalambous and Dr Cleanthis Neokleous from the Center of Excellence C YENS, Panagiota Themistokleous, Cypriot Interpreter of Sign Language from the Georgios Markou School for the Deaf, Andrea Horatiou from the Bank of Cyprus Cultural Foundation, Nefi Charalambous-Darden, educator, Maria Patsalosavvi, Curator at the Leventios Municipal Museum of Nicosia and Dr. Paraskevi Theodorou from the Department of Digital Systems of the University of Piraeus.
Through the discussion it became clear that despite all the efforts several limitations still exist and there is a need to further examine the ways in which the design and development of cultural practices can support initiatives for the inclusion of people with disabilities in culture. Such initiatives currently occur sporadically (as a result of research activity, actions of activist groups or the vision and agenda of individual museums and practitioners) and often without government support through established relevant policy and secured funding.
Learn more about the actions of the AccessibleEU Center on the website of the center and join the Community of Practice.
For the actions in Cyprus you can contact the representatives Dr. Katerina Mavrou, at the e-mail address K.Mavrou@euc.ac. cy and Dr. Elena Stylianou, at E.Stylianou@euc.ac.cy
< iframe width='300px' height='500px' src='https://www.adstorebluebird.cy/api/banner/ServeBanner?zoneId=2734' frameborder='0' scrolling='no'>