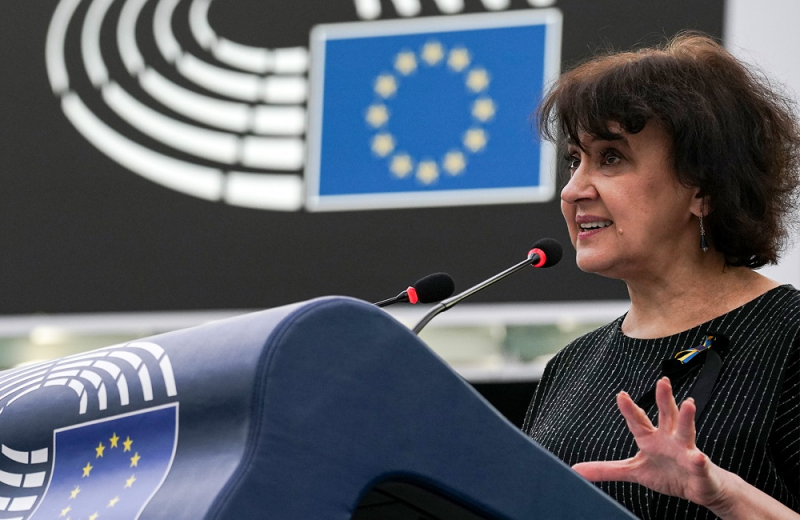 Strasbourg & # 8211; send
& # 8220; Woman's right to life & # 8221 ;. With this title and this content, the Plenary Session of the European Parliament honored today, March 8, International Women's Day. The welcoming speech was delivered by Oksana Zambusko , a Ukrainian writer, who spoke about the day, combining it with the burning issue of Russia's invasion of Ukraine.
As she said during most of her career she dealt with women, women who fought for their rights and were not recognized, history has forgotten them. Now is the first time he has been called upon to speak about women's right to life. And how else could & # 8230; Ms. Zambusko left her country two weeks ago with only one hand luggage & # 8230;
"Doctors in Ukraine instruct women at a distance to give birth in an underground shelter. Mothers are hiding with a newborn in a basement, in a subway station, inside a stable. Women are strong. But Putin's boots will not be stopped by mental strength. "Babies in the shelters are dying of sepsis and bombs can be heard from above," Ms Zabusko said in shock. I can only continue to admire my fellow citizens who are fighting, managing the distribution of food in our besieged cities and giving life to bomb shelters, under the supervision of doctors. The problem is that we will not stop Putin's bombs with the power of our minds & # 8230; said the Ukrainian author to applause.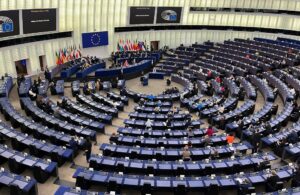 In any war, women are the most vulnerable target, he said. Because he is left behind to take care of the child, the elderly, the one in need. And it is there, this living shield, that Putin is now trying to strike to curb Ukraine's heroic resistance. "It has now started bombing residential areas, schools, hospitals. "Every minute of hesitation in the decision-making centers of the West, whether it decides to send anti-aircraft gunships into Ukraine, every coffee break they make, costs lives, lives of civilians, of a woman, of a child," he noted.
Oksana Zambusko referred to the fact that Putin was clear in April 2014 and predicted the current tragedy. He had then called it a special Russian spring military operation with the annexation of Crimea and the annexation of Dobas to a Russian military zone. In fact, as he said, he meant much more. & # 8216; That he will make those words come true. "At that time he had publicly announced that the military forces in Dobas would fight behind women and children, not in front of them, and would provoke the Ukrainian army if it wanted to open fire. "Human shields, a typical terrorist method," said the Ukrainian author, noting that no one outside Ukraine took those words seriously.
In May 2014, as he mentioned, he was speaking in Germany to an audience and likened to Putin with Hitler. They immediately turned off her microphone and censored her speech. "Eight years have passed, too many lives could have been saved if the EU and the US had woken up and seen the new Hitler ready to continue where his predecessor left off," Zambusko said. by MEPs.
In closing, he said Putin was deliberately imitating Hilter and talking about a final solution for Ukraine. He imitated, he noted, Hitler's terminology and attitude in speech in 1939, when he said he would use women and children to protect his lands.
"I can tell you that we are already in a world war. Listen to Putin and believe him. He has already spoken of reviving the Soviet bloc. "If we do not stop him, he will continue," Zambusko said shortly before the end of her speech. gender mainstreaming. The draft text calls for increased support and specific funding for gender mainstreaming initiatives in the EU's external action budgets. related rights