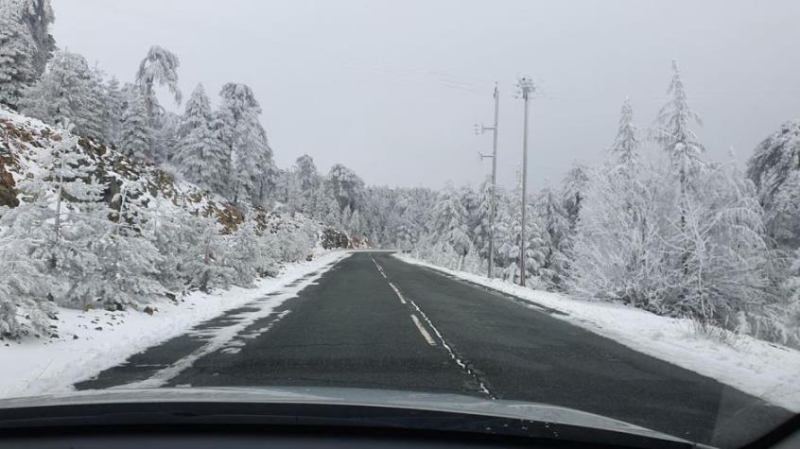 Problems are still observed on the road network due to bad weather, with the Police announcing that the roads leading to Troodos are closed for all vehicles, while in various areas there is dense fog and therefore drivers are asked to be especially careful.&nbsp ;
Closed roads to Troodos
The following roads are closed to all vehicles due to heavy snowfall:
• Platron-Troodos
• Karvouna-Troodos
• Prodromos-Troodos,
Open roads for vehicles with 4-wheel drive or equipped with anti-skid chains :
• Pedoulas – Prodromou
• Pedoulas – Pinewood- Kakopetrias
• Prodromou – Platron
• Prodromou – Lemythos
• Lagoudera – Chandrio
• Palechorio – Agro
Open roads for all vehicles but slippery and dangerous:
• Pedoulas – Moutoullas
• Kykkou – Pedoulas
• Kakopetrias – Karvounas
• Kakopetrias – Spilion
• Karvounas – Kyperountas – Agros
• Agros – Papoutsas
Also, on Kykkos street – Kampou, rock and earth landslides have been observed.
In the district of Paphos, dense fog is observed on the Statos – Agios Fotios Chrysorogiatissa road.
It should be noted that due to the prevailing winter conditions, the situation on the road network is changing. The public is urged, as before their journeys, to be informed about the condition of the roads through the announcements made by the Police.
Yellow warning
Meanwhile, a new yellow warning for rain and isolated thunderstorms was issued yesterday by the Meteorological Service.
The new warning will be in effect from midnight until 4:00 PM on Sunday evening.
< p>As noted, the effects will be more intense during the middle of the period, with the total rain exceeding 55 millimeters in 24 hours, while hail may also fall.
< p dir="ltr" lang="en">ALERT NO: 8
HAZARD LEVEL: YELLOW
ISSUED DATE: 02/04/2023, ISSUED TIME: 1300 T.X.
EFFECTIVE FROM: 0000 T.X. 05/02/2023 UNTIL: 1600 T.X. 05/02/2023 pic.twitter.com/rlmttVgzeH

— CYMET (@CyMeteorology) February 4, 2023
The warning is in effect until 4pm.
As reported, a combination of rain and isolated storms is expected to affect the region with the effects being more intense during the first half of the period.
The total rainfall may locally exceed 55 millimeters in the twenty-four hours, while it is likely to fall and hail.