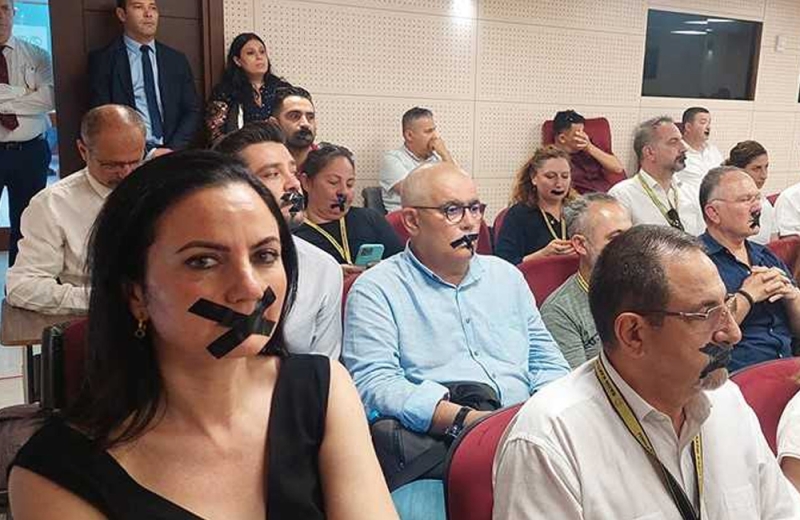 The Union of Turkish Cypriot Journalists (KTGB) held a protest rally entitled "24 Hours for Freedom" in front of the "parliament", reports today an article in the Cyprus newspaper.
According to the Press and Information Office, during the demonstration, a session was held in the "parliament" on the subject of amendments to "bills" concerning the "law on protection of privacy and privacy" and the "law on disturbers". publications ».
The position of the protesters is that the proposed changes will deprive freedom of expression. The Union of Turkish Cypriot Journalists protested against the changes. It should be noted that a group of journalists inside the building appeared with their mouths covered with black insulating tape.
The "president" of the "parliament", Zorlu Torre, reading the relevant part of the "regulations of the parliament", claimed that this move is against the "regulation" and asked the specific journalists to leave the room. This position was opposed by the opposition.
After the meeting, the "Prime Minister", Unal Ustel, spoke with a committee of the Turkish Cypriot Journalists' Union and listened to her demands . The two parties agreed not to include in the agenda of the "parliament" the requested changes of the "bills" and to amend them by setting up a working group.
The demonstration was supported by KTAMS, Dev – ,ş, Kamu – İş, Basın – Sen, Bay – Sen, Maliye – Sen and the People 's Party (HP), while the president of the journalists' union, Emin Akkor, said that the "bar association" would provide them with legal help.
Source: KYPE