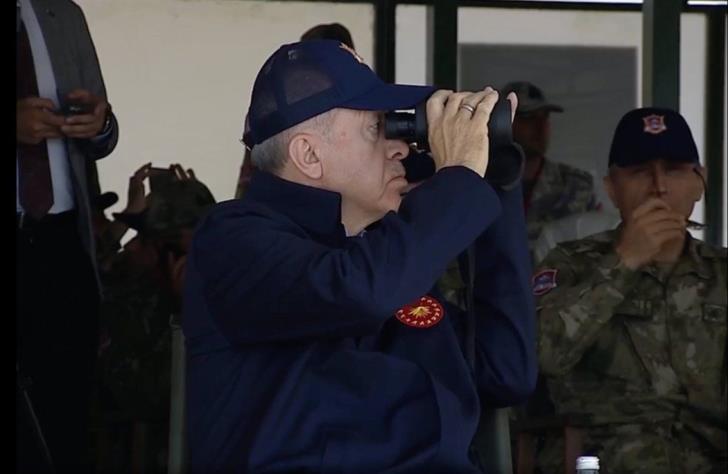 & nbsp & nbsp Andreas Pimpisis & nbsp; & nbsp;
Just 24 hours after the European Parliament adopted a report that diligently sought to ignore Turkey's aggression against European Union member states, the Turkish Armed Forces are being trained to conduct operations by sea. An exercise that obviously aimed at Greece, something that Erdogan himself took care of. Addressing Greece, the Turkish President warned her that she was not joking and that she should take care not to equip her islands. Turkish President Tayyip Erdogan has said that Greece should stop equipping demilitarized islands and comply with international agreements. According to Reuters, in a speech he gave while supervising Turkish military exercises on the west coast of Turkey, Erdogan said that Greece should "avoid dreams, actions and statements that will result in regret."/p>
READ ALSO: & nbsp; Erdogan: We are not kidding, one night we will come suddenly Erdogan, insisting on his baseless allegations, called on Greece to stop equipping the islands, saying that he was not joking, while once again personally attacking Kyriakos Mitsotakis. "I'm not kidding, I'm serious. "These people (s.s. the Turkish Armed Forces) are determined, if they say anything, they keep their word."
According to Greek media, the Turkish President said that the Russia-Ukraine war showed that peace and stability in the world are hanging by a thread. "At such a critical time, we regret that the rights and interests of our country in the Aegean, the Eastern Mediterranean and Cyprus are being violated. "Some Greek politicians are trying to get on the agenda with words and deeds that are far from reality."
However, according to Erdogan, it is clear that they will not succeed. "It simply came to our notice then. "We leave it to the discretion of the international community to seek authorization for Kastelorizo, which is less than 2 kilometers from our mainland in the Eastern Mediterranean." He added: "We call on Greece to stop equipping the islands and to act in accordance with international agreements. Mr. Mitsotakis probably makes tourist trips to the islands ".
The representative of the Turkish presidency, Omer Celik, who also attended the exercise "Efes 2022" in a twitter post, threatens Greece in a shameful way. "One night we will come suddenly," he wrote, uploading photos from the exercise.
Recep Tayyip Erdogan was in Izmir with his far-right partner, Devlet Bahceli, accompanied by a number of ministers. He appeared in the exercise area with a CH-47 Chinook helicopter, which he described as a "flying fortress". Wearing a blue jockey and a Navy jacket, Erdogan spoke briefly with the defense ministers of the countries present, as well as with the chiefs of staff.
It is clear that Turkey is making daily threats against Greece, something that, as the last report of the European Parliament showed, the EU is ignoring. Yesterday's exercise and Erdogan's new aggressive rhetoric are a resounding slap in the face of the EU's attitude towards Turkey and the threats it launches against EU member states. & Nbsp;
Athens: Nothing may affect our sovereignty & nbsp;
The Greek government spokesman Giannis Oikonomou gave a harsh response to the objections of the Turkish leadership. Mr. Oikonomou stressed that "absolutely nothing and in no way can harm our sovereign rights and our national sovereignty", referring to "untold allegations and vain myths". "That is why we call on Turkey to stop its tactics of provocation and to realize that the only way is a responsible and honest consultation, in the context of international law and absolute respect for sovereignty," he said.
Earlier, Greek Deputy Foreign Minister Miltiadis Varvitsiotis had stated that "Turkey's annoyance with the deepening of Greek-American relations confirms that the strategy on which the Greek-American defense agreement was based was correct. In particular, the Deputy Minister stressed that these relations were cultivated in a much more systematic context by the Mitsotakis government and that the expansion of the US defense presence, especially in the critical area of ​​Alexandroupolis, confirms the increased international interest in the region. Asked about Europe's attitude towards Turkey, Mr Varvitsiotis referred to the European Parliament's report on its neighbor, adding that "with the different attitude of the German side, we hope that now the last doubts and doubts may be removed" and underlined that importance of today's meeting Mitsotaki – Solts in Thessaloniki.