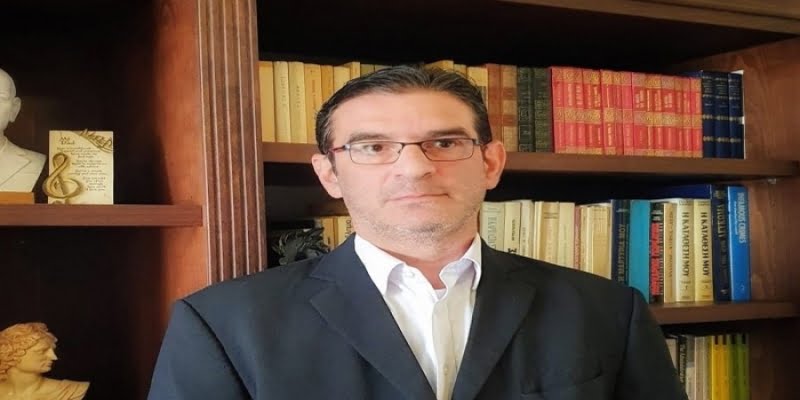 The well-known lawyer Vangelis Pourgouridis passed away on Christmas day.
The Vangelis Pourgouridis was the son of the former deputy of the Democratic Alarm, Christos Pourgouridis.
In his post, the President of the Bar Association, Christos Cleridis, expressed his sadness, writing: "On Christmas Day, Vangelis Pourgouridis, you left for the neighborhood of angels. We will always be with you, with your strong voice.
"He left" Evangelos Pourgouridis.
Dear colleague and one of the most capable Lawyers.
He glorified the profession.
A great loss for the Legal world and the field of Justice.
His memory will be eternal.

— Christos Triantafyllides (@TriantaCY) December 25, 2022
The President and the Members of the Board of the Pancypriot Bar Association (PDA) in a statement express their shock and profound sadness at the death of lawyer Vangelis Pourgouridis.
«A man who with ethics, principles , his professional career and his developed social sensitivity left a strong imprint on his short life.
He practiced combative law with dedication, consistency and passion for more than two decades and handled a large number of difficult criminal cases, honoring the function of the lawyer in an exemplary manner.
Read also: Sadness in the legal world for the death of Vangelis Pourgouridis
Profound knowledge of legal science, with dialectical perfection, insight, directness and at the same time a visionary, a tireless defender of human rights.
With his undeserved loss, the legal world of our country is poorer.
We extend our heartfelt condolences and our undivided support to the family, relatives and especially to his father, colleague Mr. Christos Pourgouridis and wish for strength and patience,'' the announcement states.
The funeral will be held on Wednesday, December 28, 2022 at 12.00 pm from the Holy Church of Agios Nikolaos in Limassol. and the burial will take place in Moniatis.
The family requests that instead of wreaths, contributions to PASYKAF.
Read also: Tragedy in Larnaca – Parents found their infant dead in boat cabin