POWERED BY:
ARCHIKIEIDISEISPOLITIKITOPIKAPARASKINIOMEDIAELLADAKOSMOSEPISTIMIPERIVALLONTECHNOLOGIASYNENTEFXEISCHRYSES ETAIREIESKOINONIAEIDISEISKYPROS OF CHTHESANAGNOSTI HAVE LOGOEPISTOLESSYNENTEFXEISDIMOFILI IN INTERNETVIDEOSAFIEROMATAADVERTORIALINSIDEREPICHEIRISEISKYPROSBRAND VOICECAPITALFORBESBLOOMBERG OPINIONPROTAGONISTESKAFTI GRAMMICHRYSES ETAIREIESKARIERAAPOPSEISARTHRA IN "F" INTERVENTION IN "F" MESSAGE YOUR SKITSAO WORLD TWITTERGOING OUTTHINGS TO DOCINEMAMOUSIKIESTIATORIABAR/CAFETV ODIGOSTILEORASIPOLITISMOSKYPROSKOSMOSKRITIKESEKDILOSEISPROSOPAATHLITIKAPODOSFAIROMPASKETPARASKINIAELLADADIETHNIALLA SPORAPOPSEISSKITSOVIDEOSAUTONEAPAROUSIASIAPOSTOLESAGONESKALI ZOIFGEIADIATROFIEF ZINASTRACHRYSES SYNTAGESSYNTAGES SEFVIMA VIMACHRISIMAFARMAKEIAGIATROIAERODROMIALIMANIATILEFONAOPAPKAIROSSYNALLAGMALACHEIAAPPSPROSFORESENTYPI EDITION POLITIKITOPIKAPARASKINIOMEDIAELLADAKOSMOSEPISTIMIPERIVALLONTECHNOLOGIASYNENTEFXEISCHRYSES COMPANIES EIDISEISKYPROS OF CHTHESANAGNOSTI HAVE LOGOEPISTOLESSYNENTEFXEISDIMOFILI THE INTERN ETVIDEOSAFIEROMATAADVERTORIAL EPICHEIRISEISKYPROSBRAND VOICECAPITALFORBESBLOOMBERG OPINIONPROTAGONISTESKAFTI GRAMMICHRYSES ETAIREIESKARIERA ARTICLES IN "F" INTERVENTION IN "F" MESSAGE YOUR SKITSAO WORLD OF TWITTER THINGS TO DOCINEMAMOUSIKIESTIATORIABAR/CAFETV ODIGOSTILEORASI KYPROSKOSMOSKRITIKESEKDILOSEISPROSOPA PODOSFAIROMPASKETPARASKINIAELLADADIETHNIALLA SPORAPOPSEISSKITSOVIDEOS NEAPAROUSIASIAPOSTOLESAGONES YGEIADIATROFIEF ZINASTRACHRYSES SYNTAGESSYNTAGES SEFVIMA STEP FARMAKEIAGIATROIAERODROMIALIMANIATILEFONAOPAPKAIROSSYNALLAGMALACHEIAAPPSPROSFORES ENTERPRISES LTD BRAND VOICE CAPITAL FORBES BLOOMBERG OPINION PROTAGONISTS HOT LINE GOLDEN CAREER COMPANIES
EXCLUSIVE COOPERATION
TOGETHER
Powered by
Next Previous The winners of the "Stelios Bi – Communal Awards for Business Co-operation 2022" HOME • INSIDER • CYPRUS • The winners of the "Stelios Bi – Communal Awards for Business …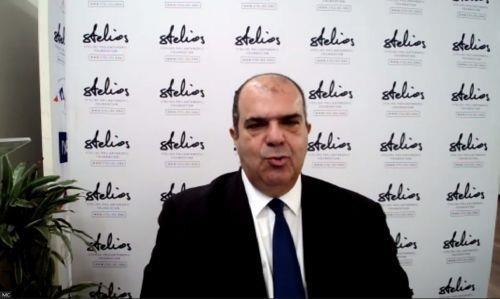 & nbsp & nbspInsider/ΚΥΠΕ & nbsp; & nbsp;
Ten bi-communal groups were awarded on Thursday by & nbsp; Sir Stelios Chatziioannou for their cooperation, each in different business activities, from fishing, to the trade of leukarite embroidery, to the creation of a museum of herbs, to olive production, and to the trade of aluminum and traditional stones. , among others.
The Stelios Bi – Communal Awards for Business Co-operation 2022, and the announcement of the ten winning teams, took place online, with Sir Stelios Hatziioannou congratulating the winners via the online communication platform. each of the 20 winners – & nbsp; 10 Greek Cypriots and 10 Turkish Cypriot businessmen – was awarded a cash prize of € 10,000. p>
Looking at the photos of the winners, Mr. Hatziioannou said that it is not at all easy to guess who is a Turkish Cypriot and who is a Greek Cypriot, and this shows that the two communities are much closer than they think. & Nbsp;
He said He also reiterated that he is not a politician, nor is he trying to resolve the Cyprus issue, but his effort is to ensure that the two communities come closer, in order to hopes for lasting peace on the island.
He expressed confidence that after the ceremony, whoever listened to what the winners had to say would agree & nbsp; with him that lasting peace has good hopes in Cyprus.
The aim of this year's awards was to encourage business Greek Cypriot and Turkish Cypriot businessmen, with Mr. Hatziioannou pointing out that they felt they should focus on this category this year, compared to other years that had other award categories, because & nbsp; due to pandemic restrictions, the contact between entrepreneurs from the two communities would not be easy.
The winning teams are the oil producers Alexandros Filippidis and Hassan Siber, Andreas Andreou and Emre Serdar who are aluminum producers, Charalambos Leonidou with Hassan Ekingen who are merchants with Legaritos. market research, and the traders of sanitary ware Elena Christou & nbsp; and Kadir Giorgantzioglou. & nbsp; Fish traders Ioannis Papadikos & nbsp; and Hussein Giavouzkourt are also one of the winning teams as are the creators of the Medflora Museum, Kyriakos Platritis and Jafar Potinji, the lavender producers, Yula Papakyriakoum and Panagiou Baris Mustafa Toprakji who are traditional stone merchants. Steven Stavrou and Burak Dolouai were awarded for the creation of a communication platform for Cypriot Entrepreneurs.
Congratulating the winners and all those who participated in the competition, Mr. Hatziioannou encouraged the people to continue to submit nominations in the next rounds of awards that will be announced.
58 Greek Cypriot and Turkish Cypriot teams (116 businessmen in total) submitted their joint application for the cash prize.
"It is worth mentioning that 50% of the winners had registered and won cash prizes "This is a very encouraging development, as it demonstrates that co-operation between the two communities is ongoing," the press release said.
in Cyprus. From the beginning of the institution in 2009 until today, the total value of the Bicommunal Cooperation Awards, including this year's amount, amounts to € 3.99 million, it is reported.