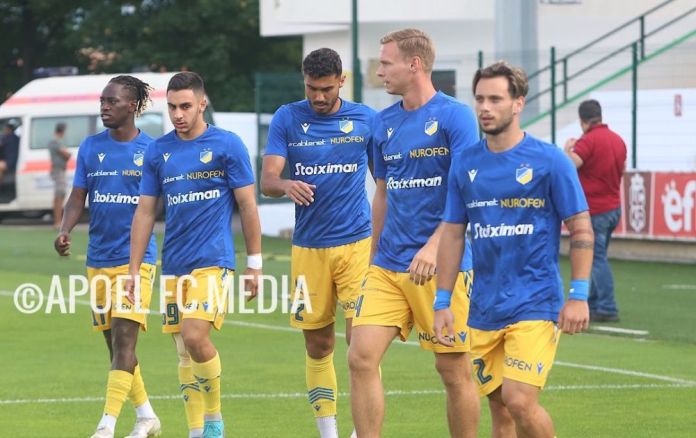 OK, it might be a little worrying for APOEL fans that their team didn't score for a second friendly game, but there should be no worry. As with Botef Vratsa, so also with CSKA Sofia 1948, the blue and yellow team drew 0-0. First of all let us mention that it is still too early for the team to find a rhythm, which plays its first European game on 20/7 against Botev Plovdiv in Bulgaria for the second qualifying round of the Conference League.
Of course. , when the days of the first game approach it will be seen if APOEL made progress in this area. In this period, however, each coach "must" experiment, try out various thoughts in order to arrive at the ideal formation.
No team can be ready this early. He needs to gain pace and this will happen over time, through training and of course friendly matches.
Secondly and equally important is that APOEL competed without its "cannons" in both friendlies, i.e. Kvilitaia and Maglitsa, while the newly acquired Ilias didn't even get time to play. Even Edogala, who can feed the forwards, did not play. The rest who have not played so far are Christodoulou, Kittos, Crespo and Moujanic.
Specifically, in the first friendly against Botef Vrasta, Augusti chose Skoufet (46′ Tsilingiri), Vrontis (46′ Sepak ), Caro (46' Esselink), Polykarpou, Wheeler (60' Giama), Sacia (60' Brontis), Souza (46' Dausvili), Sarfo (46' Dalcio), Ephraim (46' Diavara), Theodorou (46' Gavriil), Georgiou (46′ Charalambous), while in the second friendly against CSKA Sofia 1948, he played against Belets, Sepak, Karo (60′ Gavriil), Esselink (77′ Giama), Wheeler (46′ Polykarpou), Dausvili ( 60′ Vronti), Souza (46′ Satsia), Dalsio (60′ Charalambous), Theodorou (46′ Sarfo), Diavara (46′ Ephraim), Koutsako (33′ Georgiou).
Like this:
Like Loading…