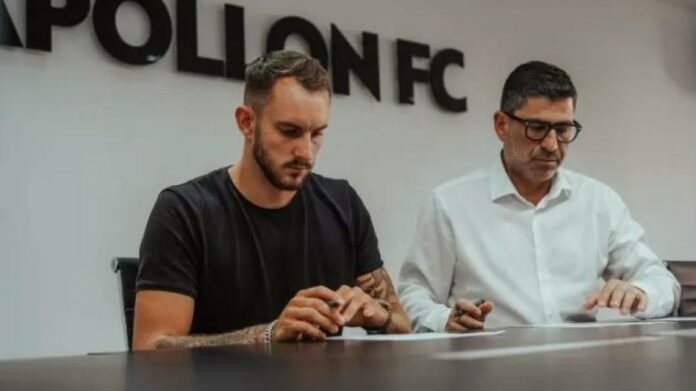 Statements by Daniel Andos at the Apollo press office. The finalization of the agreement was announced and the Austrian spoke about the new page in his career.
Apollon Football (Public) Ltd announces the finalization of the agreement with the Austrian footballer Daniel Andos, who successfully passed the necessary medical tests he underwent.
Regarding his transfer to Apollon Limassol, the talented goalkeeper made a statement on the club's official website www.apollon.com.cy.
Daniel is the first Austrian footballer to play for the blue and white.
p>
Welcome to our team Daniel. What does your transfer to Apollo mean to you?
First of all, thank you for the welcome. It means a lot for me to join here, as Apollon is one of the biggest teams in the country, which I already faced a few times in previous years. In fact, I made my debut in Cyprus against Apollon two years ago and unfortunately we lost then (laughs). I am very happy to be here now.
What is it like to face Apollo as an opponent?
Tough. The atmosphere was something else. The fans are "crazy" for the team especially now with the new stadium where the stands are closer. They were creating a formidable base that made it very difficult for us.
How easy or difficult was it to agree to come to Apollo?
What I would like to say is that I am very happy that I was given the opportunity to compete here. It is a great team with an important history, which has a great fan base, an organized structure from the president to the last employee in the building and I am confident in my decision.
There was interest. from other groups?
There were too many discussions with too many groups. Both from Austria and Cyprus, but to be honest I was waiting for Apollo. I knew about Jovanovic's case and that there was a possibility that he would leave and I asked my agent to wait. There has been interest in my person for the last few weeks but in the last few days it turned into an official proposal. Just because there was the possibility of Apollo I wanted to wait.
Your path in your previous team was strange. You started the season as a starter, admittedly you were very good as you also won the Gold Glove award in the first round but then you were sidelined. Was there a suggestion to continue there?
First of all, let me say that the season started excellently, not only for me but for the whole team. We were on top until January but suddenly everything changed. That's how football is, it has its ups and downs. In my opinion I performed well and I am happy with what I offered to my previous team. As far as my cooperation is concerned, the truth is that I did not have anything official from Paphos, nor information about what they think about me, so I was free to find my next football station.
< strong>You are the first Austrian to wear the Apollo jersey. What does that tell you?
I'm impressed, I didn't know that. It makes me happy. Maybe it's because Austria is not that successful in football or because Cypriot teams don't approach Austrian footballers. In recent years, however, great work has been done, especially in my former team (Salzburg, etc.), which has a plan and is considered to have the best academies in Europe.
Is there someone reason for "33"?
I would like "31", this is the number I used to choose in my previous teams, but it was reserved. As you can see I have it tattooed on my arm. I have had "33" before and I believe it will bring me luck.
What is the first message you would like to send to Apollo fans?
That I am excited to be here and to play in front of them in the new stadium. They are great fans and I will try my best to fulfill the team's goals.
*The footballer has chosen to play with the number 33. We welcome the footballer to the club and wish him every success in playing with the blue and white ones.