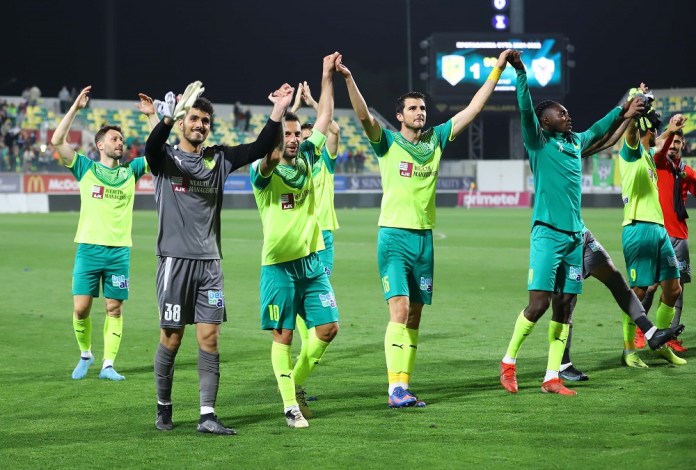 Europe now depends exclusively on the feet of the AEK players, the team can also go to the Champions League, even to win the title (with less chances), while with a little care it can be found in the grand final of the cup after 2018.
Everything went well for AEK in the last 48 hours, after the great victory over Anorthosis, the first in the league with David Bandia on the bench and the first at home in the playoffs, was accompanied by the favorable draw for its semifinal phase Cup (AEK could not be luckier this year) against Ethnikos, without of course underestimating the team of Achna.
Climate reversal
The atmosphere was reversed for good in the yellow-green camp, since a few weeks ago, mainly after the three consecutive defeats by APOEL, Aris and Paphos, AEK was not even sure about leaving for Europe. Now the people of Larnaca will only lose their European ticket by suicide, while they justifiably have aspirations for even higher.
Encouraging messages
The appearance against Anorthosis, especially in the first part, sent very encouraging messages. There were times when the team was dominant. It reminded AEK of the first round that offered a nice spectacle. Bandia's players forced Anorthosis into a passive role, but they missed the goal, since the many remarkable shots they attempted did not find a target for only a few centimeters. AEK of the first 45 minutes deserved to be ahead in the score. In the replay, the team lost the intensity and passion that Mamas showed, as the international midfielder was forced to change. AEK may not have had the aggression and phases of the first half, but it was not in serious danger from its opponent. The changes of Romo and Akoran added freshness to the offensive line and finally the entry of the Venezuelan forward proved to be crucial, since with his displacement it was difficult for Risvanis to mark, with the result that the Greek stopper fell on the penalty spot, with which T gold goal.
Five goals!
Her leader AEK Ivan Triskovski continued the incredible scoring tradition he has created since he wore the yellow and green jersey against Anorthosis. This year alone, Triskovski has scored in all four league games against Anorthosis, seeing nets a total of five times! In these four games, AEK won three, while one ended in a draw.
Like this:
Like Loading …