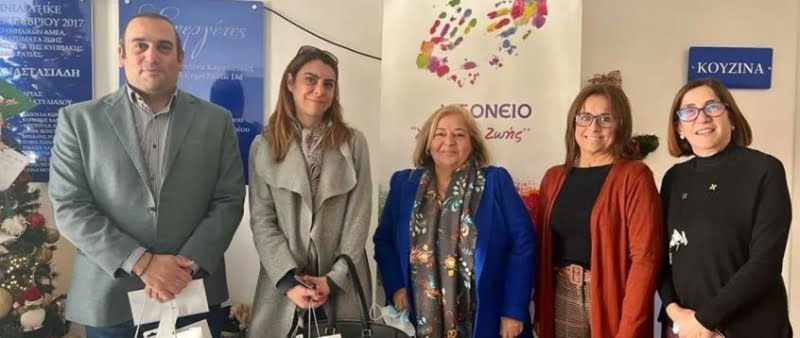 The granting of a special bus for the needs of the Center for Adults with Disabilities "Iasoneio – Colors of Life" in Larnaca was announced today by the Minister of Transport, Communications and Works Yannis Karousos and the Deputy Minister of Social Welfare Anastasia Anthousi, noting that the goal is to provide free a bus to an NGO that needs it.
In statements after a visit to the Center, the Minister mentioned that "every year the Electromechanical Service undertakes the purchase of buses that are provided to special schools".
"Iasoneio submitted a relevant application and was asking for a bus, which it really needs" he said and noted that "with the Deputy Minister of Social Welfare Anastasia Anthousis, we are in Iasoneio, to announce to him that by decision of the Council of Ministers and after a joint proposal of the Ministry of Transport and of the Deputy Ministry of Social Welfare, he will be granted a bus".
He added that "together with the Deputy Minister, we have also approved a relevant procedure from the Council of Ministers, so that other Institutions that are not Governmental, are not governmental, but are Non-Governmental Organizations, such as Iasonio, so that we can grant to those who are really in need, these buses".
Answering a question, Mr. Karousos said that "the bus will be included in the next offers that the Electromechanical Service will make for buses that are purchased. The bus will serve the needs of Iasonios and will be fully equipped with the specifications for people with disabilities and in general everything a bus used for these purposes needs, while it will be low-polluting".
For her part, Anastasia Anthousi said that "the Deputy Ministry of Social Welfare cooperates with Non-Governmental Organizations, especially in the field of actions that fall under the Deputy Ministry and we consider them to be social partners, because they additionally provide state services. That is why, within the framework of state aid, we subsidize these programs," he said.
He added that "with the Minister of Transport we had decided to show this support in practice by combining the purchase of these special buses. The goal is to be able to choose an Foundation every year, with which the Under-Ministry of Social Welfare cooperates, and to be granted a free bus". our visit today to the Foundation is to inform him of the relevant decision of the Council of Ministers".
In response to a question about the support, Mrs Anthousi said that "in the context of Non-Governmental Organizations, where it is also granted already receives the state sponsorship of the Deputy Ministry of Social Welfare, what we support is both operational and capital expenditure and maintenance issues". in the state aid plan", he concluded.