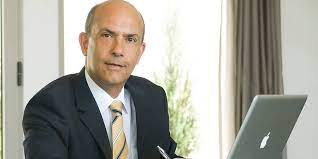 Years after his removal from the town hall, the former Mayor of Larnaca, Andreas Louroutziatis, is still busy with the Audit Service, with cases of scandals. Mr. Louroutziatis, who was forced to resign after revealing a series of irregularities in which he is allegedly involved in another financial case in addition to those that led him to prison. As is known, the former mayor was sentenced in February 2020, along with others, to five years in prison. They were found guilty of conspiracy, public service, bribery, favoritism, abuse of power and money laundering. According to the Reporter, the Auditor General investigated after a complaint payments made for the organization of Beach Volley tournament in 2012. According to a report on this website, the Audit Service's investigation revealed a strange payment, in which the former Mayor is allegedly involved. of DISY in Larnaca, Andreas Louroutziatis.
According to information, an Administrative Officer of the Municipality of Larnaca, had worked overtime throughout the Beach Volley tournament in 2012, of which overtime, he had to receive a total of € 8,170.
The former Mayor then allegedly refused to pay the specific amount for overtime, to the employee of the Municipality and after negotiation between them, it was agreed that he be paid € 4,000. However, the fact that raises suspicions about the solution that the then Mayor had found is, the check, unknown why, to be issued to another person.
Thus, the check, which bears the signature of the former Mayor of DISY, Andreas Louroutziatis, was issued in the name of the relative of the Administrative Officer and is under investigation from which fund it came.
Confirms Andreas Vyras
As it is revealed, the Auditor General investigated the matter after a complaint and on July 28 he informed the Attorney General, notifying the letter to the Mayor and the Municipal Council of Larnaca. The fact is confirmed by the current mayor of Larnaca Andreas Vyras who stated:
"A complaint was made to the Auditor General, who conducted an investigation and sent us a letter, to investigate as a Municipality some offenses, which may arise from the organization of the Beach Volley tournament in 2012."
As Mr. Vyras said, the letter of the Auditor General "is being examined by the legal advisor of the Municipality of Larnaca and will be brought before the Municipal Council".
The intention of the Municipal Council, he added, is to appoint a research officer, in order to investigate the issue and decide on the next steps.
RUN and POWER Group: Enhanced Living Experience.