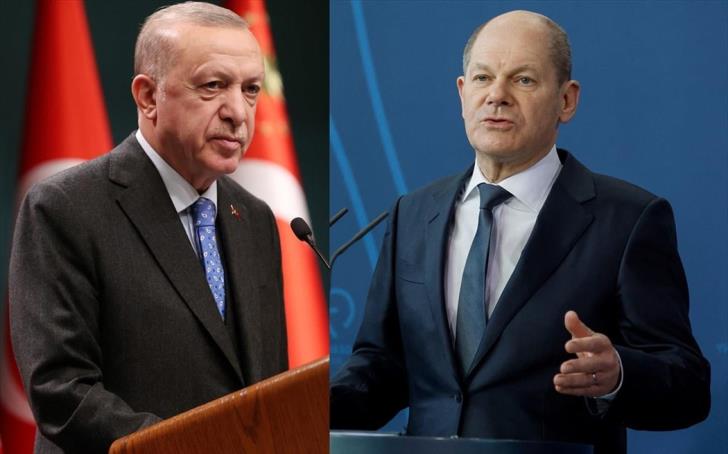 & nbsp & nbspΑνδρέας Πιμπίσιης & nbsp; & nbsp;
Turkey is seeking to take advantage of the war in Ukraine to become an energy player, and in this endeavor it seems that Germany is ready to support it. German Chancellor Olaf Soltz said after his meeting with Recep Tayyip Erdogan that "energy cooperation is very important, not only for Germany and Turkey, but also for the EU and Turkey." & Nbsp;
According to the German leader, "in order not to be dependent on Russia, we must get energy from different sources, and from different & nbsp; countries. "So we have to be able to make our decisions independently." Chancellor Soltz stressed (source East/GTP), after his talks with Erdogan in Ankara, that Germany and the new government want to assess the prospects for improving his country's relations with Turkey, while announcing that mechanisms for dialogue between the two countries will be reactivated. & nbsp;
For his part, Tayyip Erdogan said that "recent developments have shown that Turkey has a key position in many areas, especially in security and energy. "It is indisputable that Germany is one of the leading countries in the EU. I believe that the constructive attitude of our German friends in Turkey-EU relations will continue," he said. Tayyip Erdogan expressed the view that the existing high-level consultation mechanisms with Germany should be revived. "Let's hope that we will hold the meeting of the Supreme Strategic Council in Turkey as soon as possible," the Turkish President said. Turkey considers that the crisis caused by the Russian invasion of Ukraine creates new prospects for it in order to save its economy which is in a prolonged crisis. And the data show that positive prospects are being created for the Turkish economy. & Nbsp;
US Ambassador Jeffrey Flake in a statement to Yeni φάafak (source of GTP) noted that the war is changing the trade balances. According to the American diplomat, "international companies that started to leave Russia after the start of the Russian invasion operation in Ukraine, due to the sanctions imposed, started looking for new addresses", noting that about 5 thousand American companies that are preparing to leave Russia, looking for new addresses. According to J. Flake, while companies from Europe and the US are looking for new addresses, Turkey is indicated as their new address. & Nbsp;
Following calls for these companies to turn to Turkey, trade between Turkey and the United States began to intensify. According to Flake, the first major visit by a US delegation is expected to take place in Turkey this week. He also announced that the Chairman of the Board of Directors of the American Association of American Companies (AmCham) Turkey, Tankut Turnaoglu, and the Vice President of the US Chamber of Commerce, Myron Brilliant, are expected to pay a visit to Turkey this week.
In addition, Tankut Turnaoglu said that in the light of regional developments, they will visit Turkey together with Myron Brilliant to assess Turkey-US economic relations. Turnaoglu said the Association of American Companies (AmCham) in Turkey, which represents 110 US-based companies with $ 50 billion in investments in Turkey, would continue its efforts to make Turkey a regional hub.
A delegation from Turkey, consisting of senior Turkish officials, members of parliament and businessmen, is in the US, where it will remain until March 18 to make a series of contacts. As part of the four-day visit of the Turkish delegation, organized by the Communication Directorate of the Turkish Presidency, in coordination with the Turkish Exporters' Association, the Turkish delegation will carry out various trade and diplomatic contacts in the United States.
Tactics do not change with Athens & nbsp;
The Greek government appeared satisfied with the meeting of Prime Minister Kyriakos Mitsotakis with Recep Tayyip Erdogan, talking about a dialogue between allies. Ankara, however, does not seem to be in the mood to change its tactics towards Greece as it has continued its violations in the Aegean. Turkish aircraft and all 21 were from a Turkish UAV. In particular, 21 violations were committed by a UAV and four violations by F-16 fighters. However, there were also 7 violations of the Air Traffic Rules in the Athens FIR, in which another & nbsp; Turkish UAV participated. There was also an engagement with a Greek fighter.