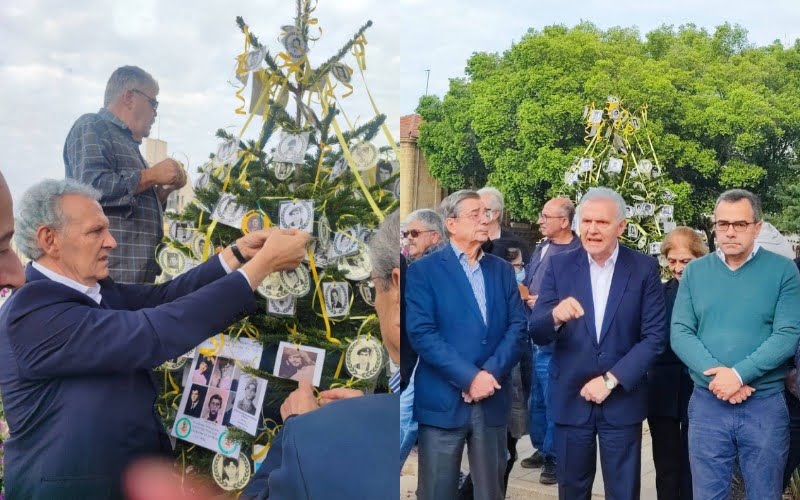 Our debt to the missing remains unfulfilled due to the intransigence of the occupying power, said Fotiou – "The decoration of the tree with the photos of the missing symbolizes Turkey's responsibilities and the ongoing drama of the relatives"
Download the CYPRUS TIMES APP! HERE for Android and HERE for iOS
Our debt to the missingremains unfortunately unfulfilled due to the intransigence of the occupying power, which persistently refuses to cooperate with good will and sincerity in the effort to clear up the last missing person case , said on Saturday the Commissioner of the Presidency Fotis Fotiou, on the occasion of the decoration of the Christmas Tree for the Missing in the area of ​​the old Nicosia City Hall.
The decoration of the tree with the photographs of the missing persons symbolizes the responsibilities of Turkey and the ongoing drama of the relatives, said Mr. Fotiou, adding that many of them have passed away with all the pain and anguish and without any answers to the questions for their loved ones.
He added that the tree also symbolizes the reluctance of the international community to contribute substantially to the resolution of an entirely humanitarian issue that causes so much pain to relatives.
"It should finally Turkey to respond positively to the appeals made to it and to the extent required by the humanitarian nature of the problem. To allow unrestricted exhumations on our occupied land, to provide clear answers to the deliberate and violent removal of bones of missing persons from their original burial sites and to allow researchers access to the records of the occupying army, as required by the international conventions it has signed and herself", he pointed out characteristically.