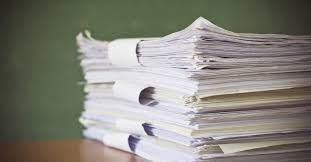 Insider / ΚΥΠΕ
A bill to reduce the ceiling of the total financial burden that can be imposed on a company that fails to submit its annual report to the Registrar of Companies, within the prescribed time limit, was discussed on Tuesday by the Parliamentary Committee on Commerce, with the relevant Ministries disagree with them, believing that this would reduce the companies' compliance rate .
The purpose of the bill submitted by MPs Elias Myrianthous of EDEK, Stavros Papadouris of the Movement of Ecologists and Panikos Leonidou of DIKO is to facilitate companies that face difficulties due to the conditions created by the pandemic in their timely submission. Specifically, it is proposed to amend the Law on Companies, in order to reduce from 500 euros to 150 euros the maximum of the total financial burden.
READ ALSO: Go to joint proposals for increased bank charges
A representative of the Ministry of Finance in the Commission disagreed with the draft law, stating that the proposal is a disincentive for some companies to comply and may jeopardize the image of the Republic of Cyprus in the OECD Global Forum assessments related to tax transparency.
A representative of the Ministry of Commerce noted that with the increase of the fine in 2015 has increased the compliance rate of companies in terms of registration of annual reports and while the Republic of Cyprus was initially classified as non-compliant in 2015 had a compliance rate of 53% and in 2020 63%.
He also mentioned that out of 110,536 companies that had to register an annual report for the year 2021, only 48,217 complied. He also said that the majority of companies that paid the reports late, pay a fine of less than 150 euros, since the companies are given a six-month margin and then the financial burden increases.
The General Secretary of the CCCI Marios Tsiakkis stated that due to COVID the accounting offices have been disorganized and the understanding of the state is required in this difficult period in order to give them a breath of time to comply with the law. He said the highest fine could be returned after the end of the pandemic. A representative of OEB also stated that the reduction of the fine is imperative.
The General Manager of SELK, Kyriakos Iordanou expressed the view that there is room to keep the imposition of punishment but also to have a relaxation for the cases that are genuine, while he stated that in many cases the 500 euros is a very high and disproportionate fine.
The Central Organizational Secretary of POVEK, Kyriakos Moustakas, was in favor of the bill stating that the amount that comes in is very serious and many of the small companies are staffed by 2 people.
The Commission will review the matter in two to three weeks.